AOL's video search engine Truveo has launched a new discovery application on Facebook.
The new Truveo Facebook app allows users to search a database of videos and channels directly within the social network as well as share videos with others. The app also allows users to find content via a friend's recommendations based on their interests.
As part of the app, Truveo is introducing a new feature that allows users to track a celebrity's voice in a video using the audio track. The new feature called Truveo Celebrity Search, lets users follow celebrities online and comment on what they say.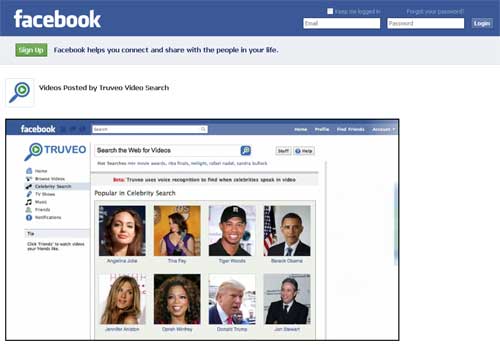 "The launch of our Facebook application, featuring our innovative technology allowing users to search by celebrity voice recognition, brings us to the forefront of the sector," said Pete Kocks, vice president, Truveo, Inc.
"We recognize that Facebook is the online equivalent of the company water cooler where people meet and share information. Our application provides users a comprehensive index of video, television and celebrity voice content now delivered all in one easy place."
The Truveo Facebook app allows users to:
*Search and browse video recommendations from over 500 million videos.
*Receive personalized video recommendations.
*Find and share music videos.
*Receive Facebook and email alerts of new television and celebrity content.