The big news hit yesterday that Twitter will be rolling out its own native image service, powered by PhotoBucket. Users will be able to upload photos and attach them directly to tweets without using one of the many third-party applications that have performed this service for some time now.
Twitter is all about a formal and uniform experience. Earlier this year, they cracked down on third-party clients that serve to "mimic" the functionality of the native Twitter app by amending their API terms of service. This new photo sharing move enforces that idea, that Twitter wants to provide everything you need to fully enjoy the Twitter experience.
Social media monitoring company Sysomos has just released some stats on their blog that detail the currents state of image sharing on Twitter. They looked at every tweet from May 30th and found that Twitpic is the top image hosting service among users, followed by yfrog and Lockerz.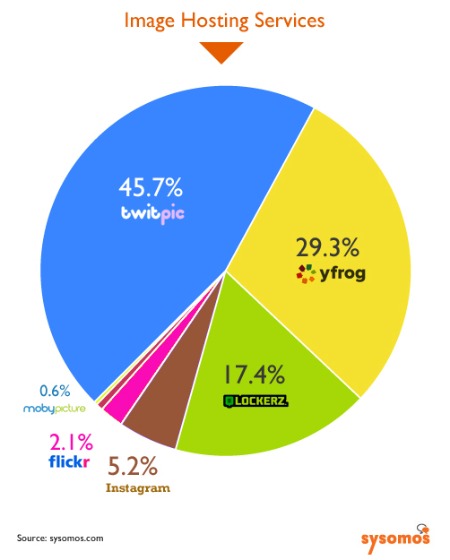 So who needs to be worried? Obviously Twitpic and yfrog, both with substantial shares of the image hosting duties currently. It's possible the services like Instagram may stay relatively unharmed or even grow when Twitter's PhotoBucket feature rolls out. Instagram has found a niche with its quick photo effects similar to Hipstamatic.
There's really no telling how popular these photo sharing services will remain when Twitter's native function is fully up and running. Will they have to adapt and add new features that Twitter's photo sharing may not provide?
It's important to note that photo sharing on Twitter is still a very small percentage of the total Twitter activity – 1.25% according to Sysomos.