Uh, so it looks like PS3 owners will be playing through a post-apocalyptic world in the upcoming exclusive – The Last of Us. Will the apocalypse be caused by ants or plants? Maybe all of this is to simply throw us a curveball, and the game will be a Ratchet & Clank sequel and this is just a practical joke being played by Kevin Butler.
Let's look a little deeper.
There are a few things we do know about the game. First, we know it is a PS3 exclusive due to an initial report of a billboard in Times Square, teasing a PS3 exclusive being announced at the Spike VGA 2011 Award Show. The game was later to be revealed The Last of Us. On the website, the date 12.10.11 is shown, strongly hinting at the show reveal.
The teaser trailer that has all us PS3 owners sweating in anticipation is this:
There's a long list of take-aways from the teaser. First, we know this game is going to deal with the violent aspect of humanity. Considering most of the clips involve riots, and acts of violence. Also, we're going to be dealing with an infection of some sort as there's plenty of medical masks and quarantine zone signs in the video as well.
While all of these aspects of video are readily apparent, there are a few things to take note of while watching. First, the YouTube channel that hosts this video has been around since 2006. Meaning, this game has been in development for over six years or they paid a YouTube user for the account. My initial guess is the former, which would mean the idea for this has been around for quite some time. Also, the narrator has a gruff and sad sounding inflection in his voice. Perhaps telling us all of the events leading up to the game have taken place.
Along with the first trailer, we have two screenshots we can salivate over. Each looking crisp and beautiful, especially if you look at the textures for the forest wallpaper screenshot.
(Click to Enlarge)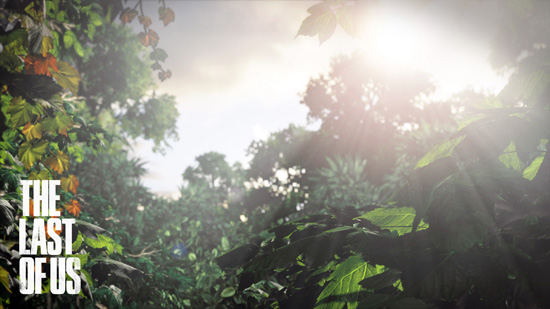 The first screenshot is the most revealing and interesting, showing a paper reporting on events which have left millions dead or "infected". There are two news headlines, "Texas, New Mexico Quarantine Fails" and "England Latest To Declare Martial Law". These could perhaps be hints at possible locations in the game; if true the game might take us around the globe for gameplay locations.
The second screenshot doesn't provide as much, but looking beyond the obvious there are a couple of details to note. First, is how well rendered this screenshot is for a game that has zero presence, and one where the developer is a complete mystery. Also, it's an odd choice for a background considering the teaser trailer has shown us urban locations.
The final piece of the puzzle, as of now, is a second teaser trailer which is even more abstract and head-scratching than the first.
It's a clip of an ant that appears to be suffering from a rare, and real life zombie fungus. The clip shows the beginning stages, but it has been confirmed that the clip is from an actual BBC special.
All of this speculation leads us back to the initial question; what the hell is this game? Will it involve crazed zombies, who eat away at flesh? Will it be a shooter or more of an adventure game?
What I find most interesting is no developer has been attached to this, which is odd. Many times, vague teases will be announced but companies will still attach themselves to the teaser. However, the site doesn't have any copyright information and there haven't been any whispers as to who's behind this.
In conclusion, I'd like to submit my own theory; I believe we're looking at Hideo Kojima's next project. The game developer who brought us the likes of the Metal Gear Solid series, and Zone of the Enders. He has expressed interest in moving away from the MGS series, and hasn't been a director for any MGS game since Metal Gear Solid: Peace Walker. He really likes to keep his games a secret, and surprise his fans as much as possible. He is no stranger to the apocalyptic setting as well; he developed a series which sounds extremely close to this, titled – Snatcher. Also, this game is being revealed at the VGA's which has grown in popularity, and Sony would really need some heavy ammunition to impress viewers. What better ammunition is there than Hideo Kojima?
All of the mind bending like tactics seem to have Kojima's distinct style attached to them. If you've ever played a MGS game, you know your mind is going to be messed with on more than one occasion. What other developer do you know would use an ant related zombie fungus video to tease a game?
We'll know the truth Saturday, sometime between 8 and 10 PM.