The iconic Empire State Building (ESB) has made a move into social media with the launch of a Facebook Page and a Twitter account.
On Facebook, people can post comments, share their photos, view images taken by others, purchase tickets and receive news about the building.
On Twitter, people can follow the ESB Observatory for real-time updates.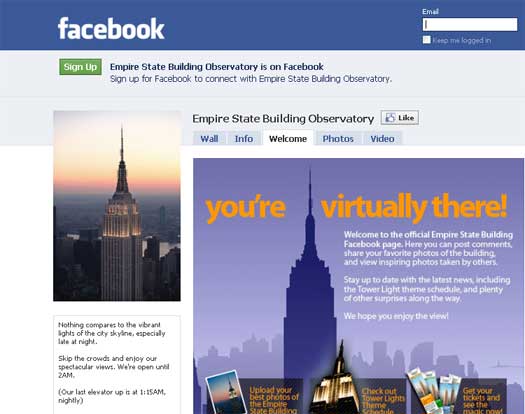 Via Facebook and Twitter, people can stay updated on future events, including the building's 80th anniversary, which will happen in May 2011. People can also find facts about the building and regular updates on celebrity visitors. In addition, the social media effort includes information about the building's tower lights, which commemorate holidays, events and special causes.
"With the launch of our Facebook and Twitter pages, the Empire State Building looks forward to connecting with fans in real-time and providing instant digital access to the Building," said Anthony E. Malkin, Empire State Building Company.
"The Empire State Building has always been a symbol of ingenuity and progress, and we recognize the importance of innovating the building itself and the way we communicate to the world."