A survey conducted at ad:tech by EPiServer has found that 60% of respondents are getting the highest return on investment from email marketing and company websites and blogs when compared to mobile and social channels like Facebook, Twitter, YouTube, and LinkedIn.
"The survey results clearly illustrate what many in the marketing world already suspect, that while marketers are experimenting with social media, they are also struggling with the practicality and ROI of these channels and driving the bulk of investment to the more 'traditional' digital channels," said Bob Egner, VP of Global Marketing at EPiServer. "The reality is that as marketers we're still early in our understanding of how to best use social channels such as Facebook and Twitter and that clearly more work needs to be done to effectively connect social and mobile marketing to lead generation and revenue growth."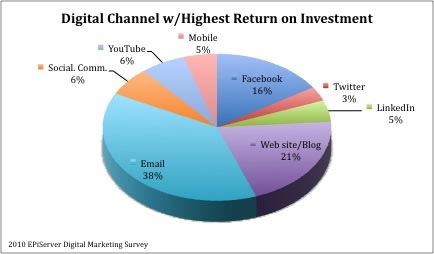 Most of these respondents apparently want to stick with what's working, as 46% count email and company sites/blogs as the top priorities for future investments in digital marketing.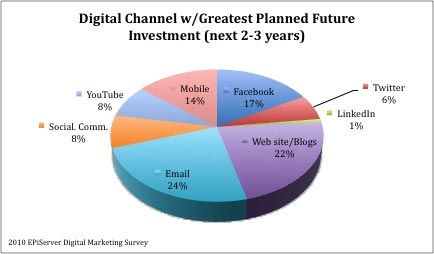 "In 2011, we expect to see more detailed analytics related to social behavior and sentiment that is closely coordinated and synchronized with the other online marketing metrics," said Egner. "In order to drive greater investment by marketers in the social channels, we also encourage digital agencies to take an integral role in bridging the gap between marketers and technologists to drive greater understanding of social media, and to paint a clearer roadmap to conversion and ROI."
The survey, which was conducted among CEOs, Vice Presidents, Directors, and Digital Marketing Managers of over 65 organizations of varying sizes at ad:tech, also found that over half (54%) indicated that their IT departments are involved frequently in technology purchase decisions.