Earlier this year, StumbleUpon launched its new advertising system, which it said helps cost-effectively deliver advertiser content to targeted audiences, while increasing the opportunity for content to go viral. Since then, the platform has experienced some pretty significant growth.
The company announced today that it has experienced 20% growth since the launch in March, with about 2,000 active monthly customers running about 3,000 campaigns daily.
"Brand marketers and advertisers have recognized that StumbleUpon Ads can attract highly targeted audiences to their web content quickly and cost-effectively," said CEO Garrett Camp. "We're able to match each sponsored page to the users most likely to enjoy it by taking into account their expressed preferences as well as the interest-level relationships between them and other users. This personalized approach results in over 70 percent of paid placements receiving a positive endorsement – which we call a 'thumb-up'- from viewers. No other interest-based ad platform so effectively connects advertisers to potential customers while delivering viral traffic to a like-minded audience."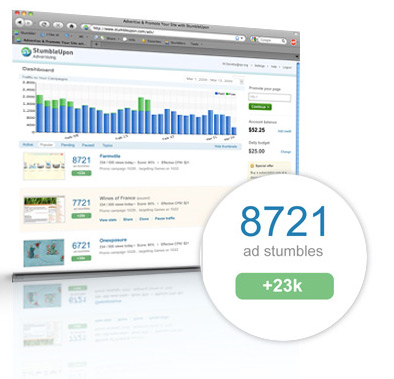 The company says that over 40,000 advertisers have used its ad platform, and year-over-year ad inclusion rate has doubled. Its number of daily active advertisers has increased by about 30%.
Mint.com's VP of Marketing said, "StumbleUpon Ads is the most cost-effective form of advertising that we have used, including pay-per-click advertising on a popular social networking site. We've been very pleased with the high quality of traffic and conversion rates StumbleUpon provides, and have seen more than half of that traffic appear organically."
Back in May, StumbleUpon claimed to be the #1 social media traffic source for the U.S. This came a couple weeks after Statcounter called StumbleUpon the #2 traffic source on a global scale, just behind Facebook.
In June, StumbleUpon reached its 10 million-user milestone. Imagine the kind of traffic it could drive if it had Facebook's 500 million.