StumbleUpon has launched a new version of StumbleUpon Video aimed at personalized video discovery. The company says its recommendation system has been "fine-tuned" to better personalize the viewing experience.
"Instead of hunting from site to site for fresh, interesting videos, now you can watch content from across the web, all in one sleek, distraction-free, theater-like interface," says Monofsu, Community Manager at StumbleUpon. "It's just you and the video you're watching!"
"Remember to thumb-up and thumb-down your videos just like you do with web pages; the more you rate the videos you are watching, the better StumbleUpon can create a more personalized experience that becomes increasingly tailored to your preferences over time," says Monofsu.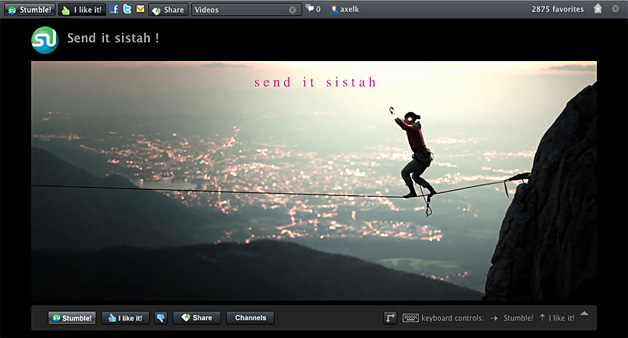 StumbleUpon will let users stumble through videos from specific destinations, such as YouTube, Vimeo, CollegeHumor and others. They just added Hulu and TED to the line-up.
The company is playing its new video service up as an alternative to TV:

Content providers should not overlook the service. Not only has StumbleUpon been proven to be a great provider of traffic, but its user base continues to grow (it reached 10 million in the summer), and it has since made its way to the iPhone and Android.
As connected TV devices become more popular, services like StumbleUpon video stand to become more useful to consumers, and that means more opportunities to get your videos seen.