State Farm has introduced a new free iPhone and iPod touch application aimed at helping young drivers stay safe on the road.
The "Steer Clear" application is part of State Farm's safe drivers discount program. The app gives young drivers a way to complete the Steer Clear discount program and encourages supervised driver education.
State Farm says its Steer Clear program aligns with the principles of Graduated Driver Licensing laws aimed at reducing teen car crashes by lengthening the time teens must drive while supervised and requiring practice in a number of driving conditions.
The app allows parents and teen drivers to take advantage of State Farm's Steer Clear car insurance discount, which requires teens under the age of 19 to complete 20 guided trips behind the wheel. The Steer Clear app provides a trip timer to log suggested outings and it will track practice time while the mobile device is turned off.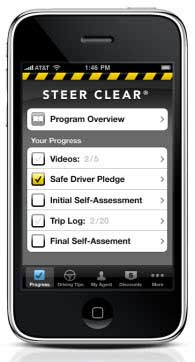 "Parents have told us they need more information about guiding their teen through the learning to drive process," said Laurette Stiles, Vice President, Strategic Resources at State Farm.
"This new application provides trip suggestions, goals and pointers for assessing driving skills. By providing this tool State Farm hopes to support supervised practice and improve teens' skills for independent driving."
The Steer Clear iPhone and iPod touch application also includes driving tips, a safe driving pledge and informational videos. If the program is successfully completed participants can receive up to a 15 percent discount on car insurance.