As the amount of activity on social networks continues to increase, more users are taking steps to protect their privacy but security risks remain, according to a new report released by Webroot.
The survey included more than 1,100 members of Facebook, LinkedIn, MySpace, Twitter and other social networks. The survey found an increasing awareness among social network user of how to keep personal information private. At the same time, it indicated how social network users still put their identities and information at risk.
More users are practicing certain safe behaviors, including blocking their profiles from being visible in search engines, a 37 percent increase over last year. Yet more than a quarter have never changed their default privacy settings and more than three quarters have no restrictions on who can see their recent activity.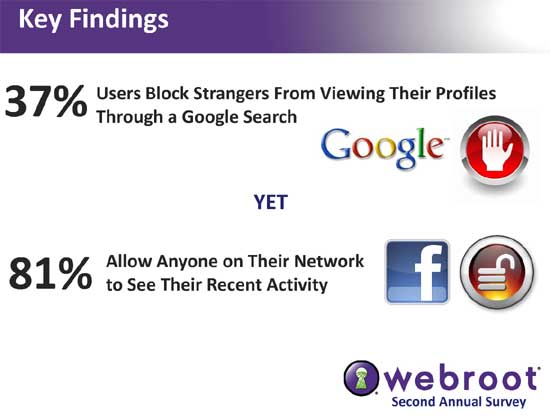 "A perfect storm is developing between the number of people flocking to social networks and the new, increasingly sophisticated malware attacks cybercriminals are launching to prey on the personal data they're sharing," said Jeff Horne, director of Threat Research at Webroot.
"For example, our team has noted over 100 different variations of Koobface, a worm known to trick people into clicking links they shouldn't in order to infect their PC's and often convince them to provide credit card numbers to buy phony antivirus products, among other fraudulent activities."
Social network users are sharing information that could help hackers breach their profiles:
*Sixty-one percent include their birthday
*Fifty-two percent include their hometown
*Seventeen percent make their cell phone available
Eighty-one percent don't place any restrictions on who can see their recent activity, including updates generated by geo-location tools that reveal where users are visiting
*Younger users (age 18-29) are the least likely to take steps to protect their information:
*Forty-three percent of young users have the same password for multiple sites
*Forty percent of younger users say they accept friend requests from strangers
"Consumers need to better protect themselves by guarding their profiles and setting stricter privacy policies – especially given the growing popularity in location-based social media tools that broadcast where you are. It's also important to make sure your computer has an added layer of security to stop attacks before they happen," said Horne.