According to new research, adoption of social plugins by top websites is up all around, but the Google +1 button is seeing the fastest growth.
BrightEdge, an "enterprise SEO platform," has analyzed month-over-month adoption trends of popular social plugins across the top 10,000 websites in the world.
And according to their data, Facebook it still the king of the plugins. In the top 10,000 sites, 10.8% have adopted the Facebook "Like" button. A much smaller 6.1% have installed the Facebook "Like" box.
But that 6.1% dwarfs the meager 2.1% that have adopted the Twitter Share button and the 1.3% that have adopted the Twitter Instant Follow plugin.
As of July, 4.5% of the top websites have gotten the Google +1 button. Although that pales in comparison to the 10.8% that have the "Like" button, it is the one with the most increased adoption in the last month. +1 adoption has risen 1%, way more than Facebook's "like" button, which has only increased 0.3%. The Twitter Share button has only increased 0.1%.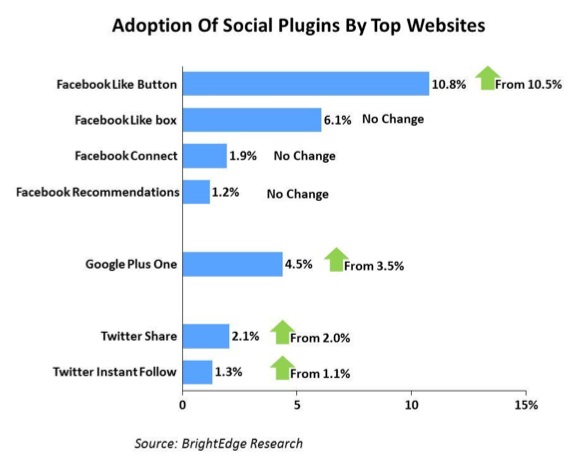 It's possible that the Google +1 button saw more integration due to the buzz surrounding the launch of the Google+ social network. Don't get the two confused – they are separate entities. It's also important to note that no specific plugin that was part of BrightEdge's analysis fell in adoption in the last month.
The study also looked at the adoption of social links, i.e. on-site links to the site's page on Facebook, Twitter, LinkedIn, etc. They found that out of the top global properties, 51% had no link to their Facebook or Twitter page.
These people are missing a big opportunity, says BrightEdge –
This is clearly a missed opportunity for the brands that own web properties that are not "social aware". They are missing out on a massive audience engagement driver as the major social networks have garnered quite a following with Facebook alone boasting a mind boggling 700million active users spending over 750 billion minutes per month on the site.
For the top 10,000 sites, the majority who have adopted social links have linked to Facebook and Twitter. These links are up from last month. The only social media outlet to lose website linkages was YouTube.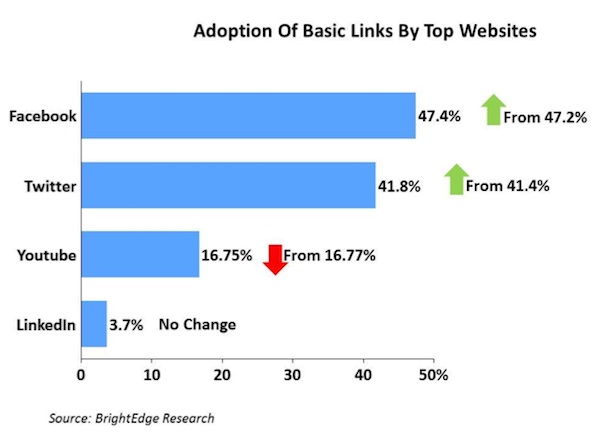 Has your site adopted the Google +1 button? Are you seeing interaction with it? Let us know in the comments.
[Hat Tip to
Search Engine Land
]