VideoEgg announced that it has agreed to acquire Six Apart, makers of the TypePad blogging platform. Together, they are forming a new brand, called SAY Media. They have a combined global audience of 345 million, which should be attractive to advertisers.
The announcement claims SAY Media has an audience of 73 million social techies, 25.5 million moms, and 34 million sports enthusiasts. "Overall, SAY Media's total audience will rank #1 in Blogs and #2 in Conversational Media, second only to Facebook," the company says.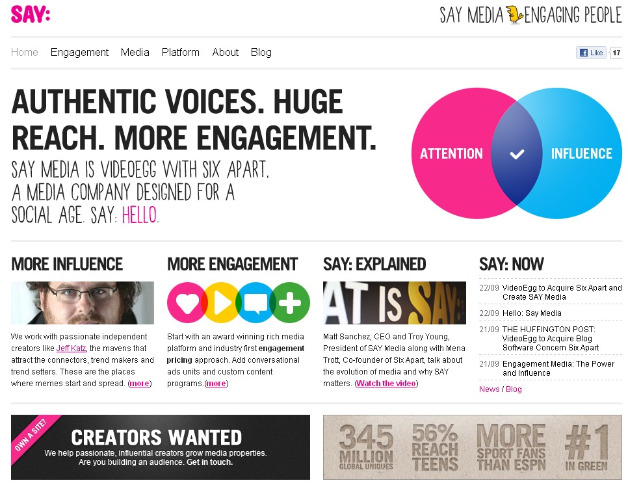 CEO Matt Sanchez (who has been CEO of VideoEgg) says, "Media has fundamentally changed and the new models can't be ignored. Content consumption patterns are being driven by social connections and new types of content creators and aggregators from Huffington Post to Perez Hilton to Angry Birds have built passionate audiences and grown strong media businesses out of the change. SAY Media is a media company designed to meet these new challenges and help advertisers find systemic ways to garner attention."
"SAY Media continues Six Apart's mission to make passionate creators successful," says Six Apart co-founder Mena Trott. "Whether on TypePad or another platform, developing a game or an application, the company will empower people to create great content and make money doing it. This acquisition marks a new beginning as we launch a modern media company centered on the creators, the content, and the audiences that are redefining media."
Financial terms of the acquisition have not been disclosed.
According to Matthew Ingram at GigaOm, Six Apart CEO Chris Alden is stepping down, and Movable Type and TypePad will continue as products.