Facebook product design manager Julie Zhuo contributed an op-ed piece to the New York Times, which calls for content providers to stop allowing for anonymous comments on their content, in an effort to maintain accountability for what is said.
This is not a new subject, nor an easy one, and despite Zhuo taking a clear stance on it, she does present both sides of the debate: accountability vs. privacy and freedom of expression.
A lot of blogs are encouraging (or even requiring in some cases) users to log in with their Facebook accounts. There's no question that Facebook has a vested interest in the decay of anonymity. Facebook wants to own your identity. Facebook has always looked down on anonymity though, even before Facebook Connect existed. That's why unlike MySpace or Twitter, Facebook requires you to use an actual name (rather than a handle) for your Facebook Profile.
While there are cases where fake accounts are created, Facebook has even over-enforced this policy in some cases. Remember the woman named Yoda that was blocked because she shared a name with a popular Star Wars character?
That's not to say Zhuo doesn't make a compelling case, citing known examples of when anonymous comment "trolls" have crossed well over the line of human decency. Here's a sample from the piece:
After Alexis Pilkington, a 17-year-old Long Island girl, committed suicide earlier this year, trolls descended on her online tribute page to post pictures of nooses, references to hangings and other hateful comments. A better-known example involves Nicole Catsouras, an 18-year-old who died in a car crash in California in 2006. Photographs of her badly disfigured body were posted on the Internet, where anonymous trolls set up fake tribute pages and in some cases e-mailed the photos to her parents with subject lines like "Hey, Daddy, I'm still alive."
Psychological research has proven again and again that anonymity increases unethical behavior. Road rage bubbles up in the relative anonymity of one's car. And in the online world, which can offer total anonymity, the effect is even more pronounced. People — even ordinary, good people — often change their behavior in radical ways. There's even a term for it: the online disinhibition effect.
Still you have to think a lot of valuable content would be lost if comments were no longer able to be anonymous. Some people just don't want to put themselves out there like that, and it's not always a matter of accountability. Some people just have genuine concerns about privacy.
I'm sure there are also plenty of people who have valuable things to add to conversations that just don't feel like taking the extra steps necessary to authenticate their identities (not everyone is a Facebook user, mind you, and not all Facebook users trust Facebook with their privacy). On the other hand, it would reduce the noise too.
Then there is the fact that enforcing any kind of accountability is just not an easy task, and Zhuo acknowledges this. People can give fake names, email addresses, etc. Although, this may be one of Facebook's ways of encouraging Facebook email address adoption too.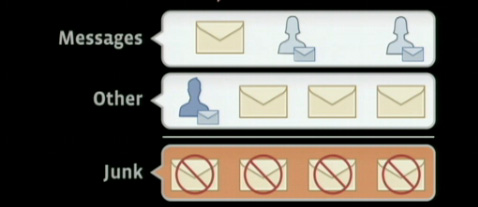 It's an interesting problem with no easy solutions. If the web has taught us anything during its existence, it's that people will always find ways to abuse it.
Caller ID has been a pretty popular feature for phones though.
Do you think online anonymity should be erased? Do you think it can be? Share your thoughts.