Smartphones have made the transition from luxury to necessity. Think about what we rely on our smart devices for – phones calls, text messages, calendar, social media, games, web browsing, the weather, camera, maps…the list is endless. What would the average American be willing to sacrifice to keep their phone?
Quite a lot, according to a survey by TeleNav.
One-third of those surveyed said that they would give up sex for a week if it meant they could hang on to their mobile devices. Of those respondents, 70% were women (there's a joke here…).
It is amazing how many Americans would be willing to forgo certain everyday things if it meant holding on to their phones. Here is a short infographic by TeleNav –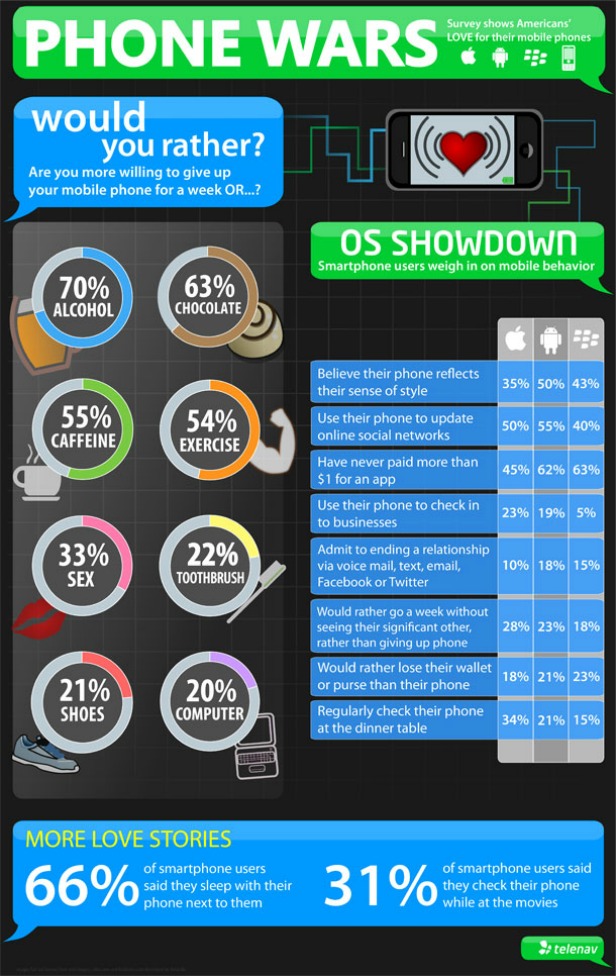 The 20% who would be willing to give up their computer makes sense, in fact, I'm surprised it's not higher. But the 70% that would give up alcohol? No phone is awesome enough for me to give up beer for a whole week. I shiver at the thought.
It's also interesting to see that both iPhone and Android users are jerks in their own ways. More Android users admitted to breaking up with someone with text or social media, but more iPhone users reported "regularly checking" their device at the dinner table.
When it comes to users' opinion of their own brand, iPhoners win. 83% of iPhone users said that other iPhone users would make the best lovers. That compares to 70% of Android users and only 48% of Blackberry users.
Some more interesting findings that weren't included in the infographic –
Smartphone users were twice as likely to forgo hot showers for a week than feature phone users if it meant keeping their phones
Smartphones users were also twice as likely to give up TV that feature phone users
iPhone users were more willing to go without shoes for a week to keep their phones – 43%.  To that hypothetical, Android and Blackberry users registered 27% and 25%, respectively

I'd sure like to see the time frame extended on a survey like this. What if you had to give up your mobile device for a month…a year? I bet it would be amazing what people would be willing to sacrifice to avoid that horror.

Would you give up sex or shoes for a week to keep your smartphone? Let us know in the comments.