To highlight the importance of reading, book publisher Scholastic has launched "You Are What You Read,"a social networking site for readers.
Users of You Are What You Read create a profile by listing five books that had the biggest impact on their lives, and connect with readers through shared "Bookprints," as Scholastic calls them.
Users can login to You Are What You Read via Facebook or Scholastic.com accounts. The site features the Bookprints of more than 130 notable people including Scarlett Johansson, Al Roker, Sir James Dyson, Venus Williams, Jodi Picoult, Malcolm Gladwell, Judy Blume, and President George H.W. Bush.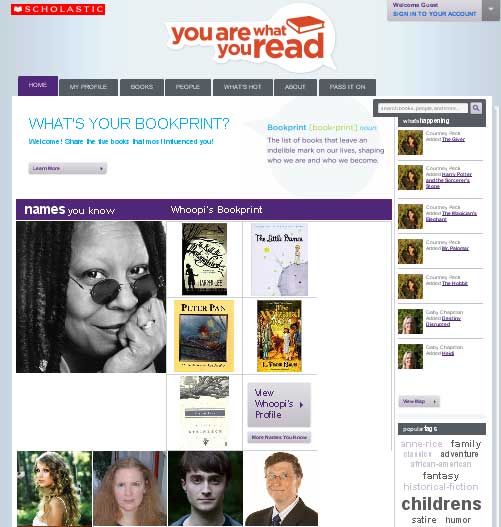 Users of the site can:
*Can find new books through an interactive web that shows how users' Bookprints are connected
*Compare their Bookprints to those of the participating "Names You Know," and find out if they share a book in their Bookprint with famous athletes, entertainers, scientists, or business leaders
*Share a book in the real word through Pass It On, which encourages users to give a favorite book to others
"Books leave an indelible mark on who we are and who we will become," said Maggie McGuire, Vice President, eScholastic, Kids and Parents Channels.
"You Are What You Read is a celebration of the books that bind us together, and the personal connection we feel when we read a great book."