AdGooroo, a competitive intelligence agency, has released a new report, which indicates that there as has been a decrease in active advertisers for Google, despite projected Q4 gains.
"Google experienced a quality purge this quarter and banned what we believe to be more than 30,000 advertisers, accounting for about 5.3 percent of its active advertiser base," said AdGooroo Founder and CEO Rich Stokes. "While this typically signals a negative impact on revenues, AdGooroo also tracked increased competition for ad placement, resulting in higher ad prices for Google and unusually high clickthrough rates. Google seems to be taking advantage of a strong Q4 to make some quality improvements."
The report maintains that ad coverage, which has been steadily climbing for the past 12 months took a sudden dive in December, dropping nearly 10% — from 5.48 ads per keyword in November down to 4.97 in December.
In the report, the firm notes that the fourth quarter has traditionally been strong for Google, and expects this to be the case again this year. "This seasonal improvement has less to do with total search query volume (which historically is about the same as November), and more with increased competition for ad placement (higher ad prices) and unusually high clickthrough rates," says AdGooroo.
Here are some interesting graphs from the report: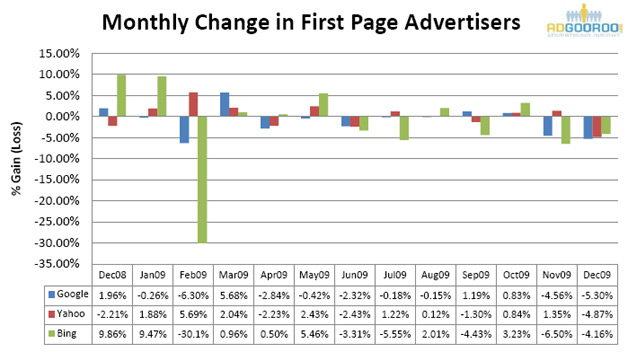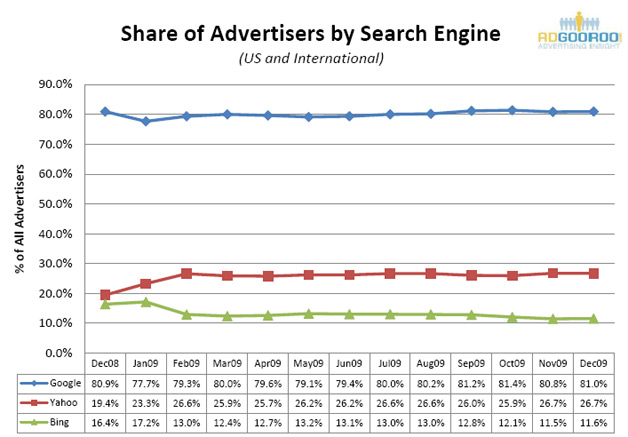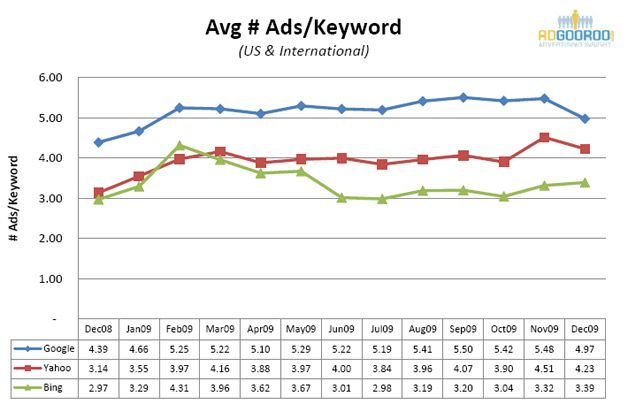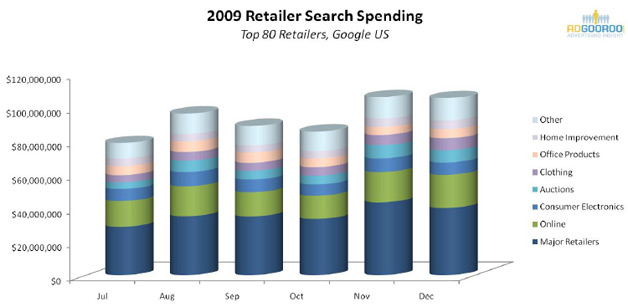 Other interesting information in the report includes lists of the top 25 advertisers on Google, Yahoo, and Bing, and the most expensive keywords on each of these search engines. These are based on the total number of recorded first-page ad impressions, and doesn't necessarily reflect total ad spend. You can check out the report in its entirety here (it's complimentary).

Related Articles:
> Consumers Expected to Spend $6.2 Billion on Mobile Apps in 2010
> Click Fraud Rate Spikes In Q4