Twitter's preparing to take another step away from its revenue-less past, according to a new report. Rumor has it that a fresh "Promoted Trends" feature will complement the system of Promoted Tweets the company's already devised.
Peter Kafka wrote this afternoon, "Advertisers will be able to insert their own term into the list of trends that Twitter displays on users' home pages and on its login page. Clicking on that term would call up a Twitter search results page, which would feature that advertisers' 'Promoted Tweet' at the top of the results."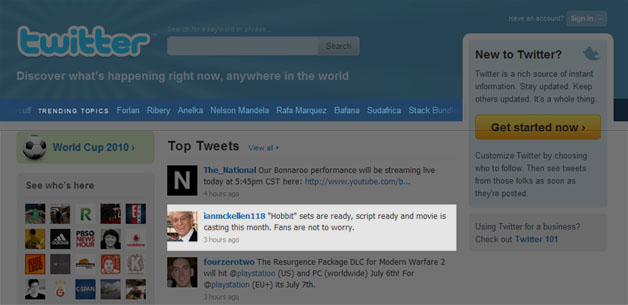 (Note: Ian McKellen's announcement doesn't have anything to do with the Promoted Trends concept. It's just kind of great in its own right, which is why we've left both the trending topics bar and his message undarkened.)
Kafka then added, "Advertisers who have heard Twitter talk about the product say the service imagines charging 'tens of thousands of dollars' a day for exclusive placement rights."
Feel free to let us know what you think of the idea. It could, of course, prove intrusive or annoying, as ads often do. Or it might meet with some success (consider this: aren't you more interested in Pepsi, Nike, and Netflix than Justin Bieber?)
Anyway, Twitter's admitted that it will probably run an experiment, but if or when it will implemented Promoted Trends on a wide/permanent basis is hard to say for sure.