Update: PayPal says this year, Twestival raised over $450,000 for Concern Worldwide.
Original Article: If you're an active part of the Twitter community, you're probably well aware that the Twestival event is underway today. In some parts of the world it's already over, but in others it's just beginning. WebProNews talked to Judy Chang of PayPal's non-profit team about the event, and the company's role in it.
If you're unfamiliar with Twestival, this is its second year, and it is a global initiative to raise money for a cause that is selected by the community – last year it was about getting clean water to people that didn't have it, and this year it's about education around the world – the organization to benefit is Concern Worldwide.
The event takes place online as well as off. People arrange parties and events in cities all over the world and see who can raise the most money. "The cities are somewhat competing," says Chang.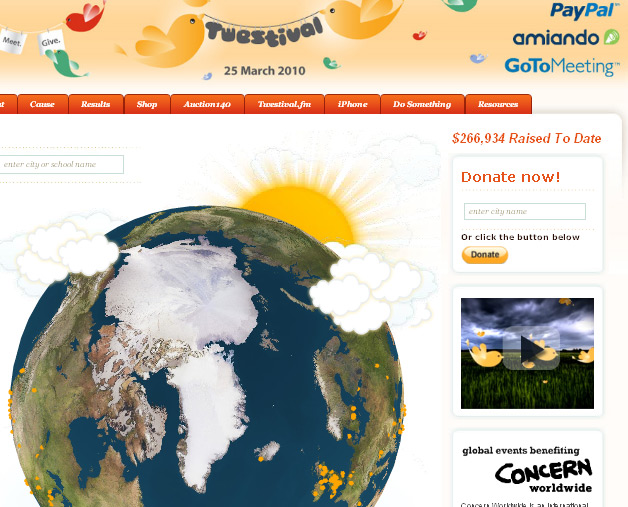 She says that because of Twestival's grassroots nature, the cities find their own sponsors for events. Some of them may feature celebrities (a lot of celebs are auctioning off memorabilia on eBay to support Twestival). Some of the events are streamed live through UStream.
The events are the offline part though. PayPal comes in more on the online part. The comany offers a widget that any of its account holders worldwide can use to raise donations for the cause. That includes 190 countries and 24 currencies. That opens up room for a lot of potential donors.
As far as the events themselves, the Twestival site will show you where they're all being held. You can search for specific cities and see the details for the event on each one (like who's attending and how much money that city has raised).
Last year, Chang says Twestival raised $250,000 and got clean water to 17,000 people. Soon, we'll find out how much the event is able to raise this year.