Papa John's said today that people who place orders online on Super Bowl Sunday will have the chance to win a $45 gift card.
Beginning at 10 a.m. ET on Super Bowl Sunday, Feb. 6, every customer who places an order online will be eligible to win a free $45 Papa John's gift card. The 45-Second Giveaway runs through Super Bowl XLV, ending at 9:59 p.m. ET. Papa John's customers can also register for the 45 Second Giveaway.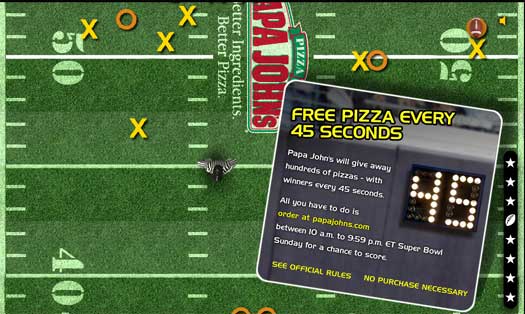 "Since Papa John's is the Official Pizza of Super Bowl XLV, we want to make this the best Super Bowl ever for NFL fans everywhere," Papa John's Chief Marketing Officer Andrew Varga said.
"We want to reward Papa John's customers by giving away a free $45 Papa John's gift card every 45 seconds. It's one way that we're saying thanks to our fans during Super Bowl XLV."
Papa John's is also offering a free large pizza to everyone in America, who registers for Papa Points, if this year's Super Bowl goes into overtime.