Last Tuesday, the season premiere of the hit television show "Lost" aired, and not only was it watched by over 12 million people, but it drove record online viewing at ABC.com the next day, with over 580,000 episode starts on the site. That's over 34% more than last season's premiere. ABC shared some details with us.
When asked why they think this particular episode of Lost had such an impact on online views compared with other episodes and other shows, a representative for ABC told WebProNews, "Lost has been a top performer in terms of online viewing since we began making episodes available online several years ago. Fans of the show tend to be very tech-savvy and also tend to watch episodes more than once. They also frequently go online to review specific scenes."
On Tuesday, leading up to the airing of the show, ABC.com saw over 1.8 million unique visitors and delivered over 7.4 million page views, a 5% and 43% increase, respectively over the previous year's premiere date, based on data from Omniture. Visitors to ABC.com logged more than 2.2 million video views of "Lost"-related short-form content on Tuesday, an increase of over 32% compared to last season.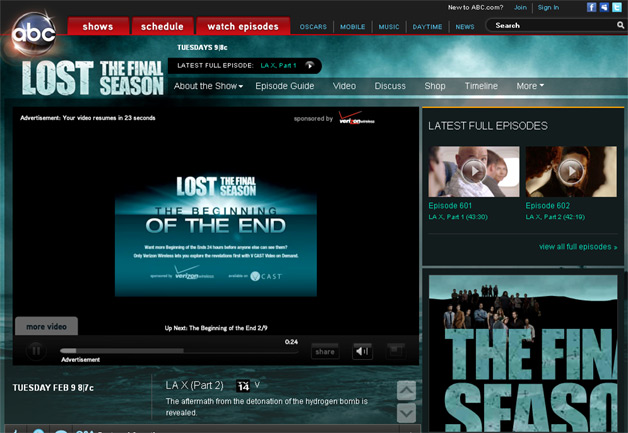 ABC gives viewers more than just the videos though. This season, ABC.com offers interactive, community-driven features including user-created Top 5 lists which allow fans to arrange, rank and share their personalized lists of show-related favorites; and Episode Commentary where fans can access commentaries created by series' insiders, and create and share their own for each episode.
The site will also soon unveil a Fan Art Wall, an interactive area for fans to upload, view and rate "Lost"-themed art created by fellow fans, and also give fans the opportunity to participate in a promo contest, providing users a "mash-up" tool to create and share their own "Lost" promos with a winning promo to be featured on-air.
There has been some talk about just how well TV shows will perform online in the future as Nielsen makes data available about the viewing of commercials that run in particular shows, whether they are viewed on TV or online. This could lead to online TV shows getting more ad-heavy.
"ABC.com's full episode player features interactive video advertising," ABC tell us. "Lost episodes currently feature a single national sponsor. They have 4 30-second spots which can't be skipped; additionally the local ABC affiliates sell one local spot per episode."
We won't be able to compare Lost episodes from this season with episodes after the Nielsen stuff goes down, because this is the final season of the show, but it is going to be quite interesting to see how advertising on popular shows changes, if it does in fact do so.