U.S. online video advertising revenue is on track to surpass $1.3 billion this year, according to a new report from Parks Associates.
Steady growth in online video viewership, combined with the ability to target specific viewers based on preferences and viewing history is the reason behind the figures.
The report found large percentages of consumers, specifically younger consumers, have not formed a strong opinion about targeted advertising. These ads include pre-rolls shown before an online video or overlays displayed during a show, with the content based on the user's viewing habits.
Among U.S. broadband households, almost 50% of heads-of-household aged 18-34 are indifferent to targeted advertising, while 42% aged 25-54 and 25% aged 55 or older are neutral.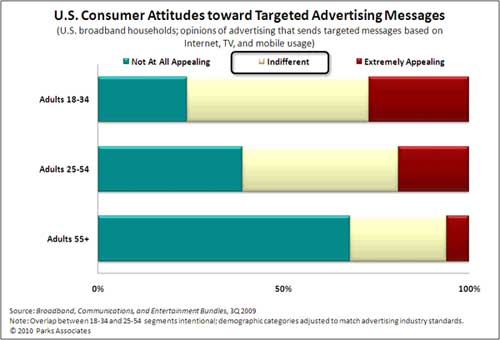 "Indifference indicates consumers can be won over by new advertising strategies, provided these messages are designed well, with truly relevant content," said Heather Way, research analyst, Parks Associates.
"Also, the younger age groups are more receptive to the concept of targeted advertising, and advertisers place a premium on the ability to reach these demographics."
While online video does not yet have the same audience reach as traditional broadcast and cable TV, the medium continues to grow its user base, and increased content offerings via TV Everywhere initiatives will bring in more viewers and boost advertising revenues. Currently over 50% of heads-of-household 25-54 watch online video at least weekly, and the percentage jumps to 75% for ages 18-34.