Take a look at what Walmart's doing on Facebook. The retail giant has put together a Groupon-like model for driving sales via its Facebook page, with a Facebook called CrowdSaver. Hat tip to The Next Web for pointing this out.
Walmart's fans can look at the possible deals Walmart has come up with, and if any one deal gets a certain amount of likes (pre-set by Walmart), the deal will become a reality at Walmart.com while supplies last.
"We're putting you in charge of lower prices," the company says in the heading on the app page. "If enough people Like this deal, we'll make it happen."
Right now, they're displaying an Element 42" Plasma TV with Wall Mount with an 18% off discount price of $398. The deal required 5,000 likes to take effect, and the goal has already been met, as Walmart says, "Congratuations! There were enough Likes to make this deal happen. Come back later this week to purchase this deal."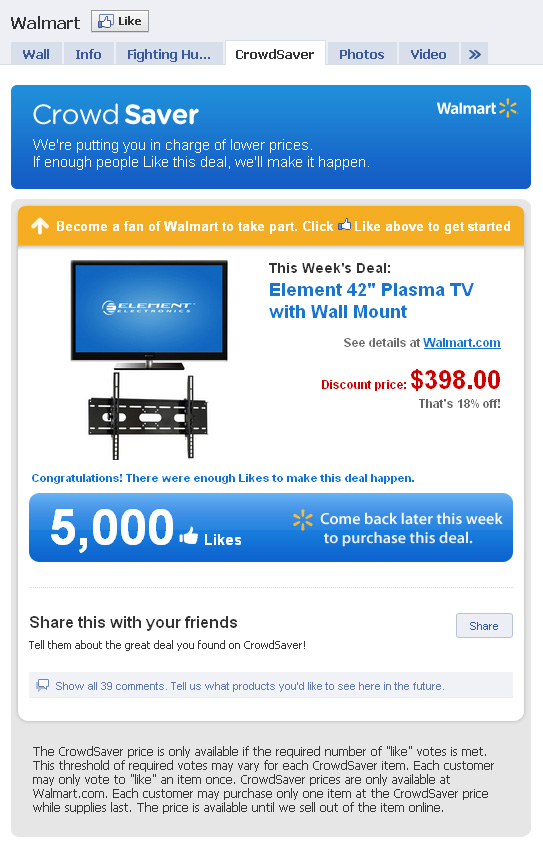 Walmart already has close to 2 million Facebook fans, so there is a pretty good chance that any deal they post will get enough likes to become real. That is unless they set the goal ridiculously high, but I doubt they will do this, because they want people to buy this stuff.
The tactic is not only going to be good for driving sales of select items, but it should help Walmart continue to boost its Facebook fan number as more people catch wind of this, which should happen fairly quickly, given that the strategy takes advantage of Facebook, which is obviously social by nature. People will see others' likes through their news feeds.
As Chad Catacchio at The Next Web says, more brands will likely start doing this exact same thing. The good news is that you don't have to be a big brand to utilize this kind of strategy. A smaller brand might want to keep the like number goal a little bit lower, but there's no reason why a business of any size can't try this. It could be a good way to increase sales as well as fans. It's also a good way to keep fans engaged with your brand, and the more fans you get, the more news feeds you'll get into.
Just keep in mind the goals for your strategy and know your limits. Make sure these clear to customers when applicable.
Of course you can promote this on and off of Facebook.