The New York Times has implemented video recommendation technology from Taboola, on its online video section, NYTimes.com.
Taboola video recommendations are based on algorithms that combine behavioral and contextual data to analyze users' engagement with videos they watch and generate real-time predictions for other videos of interest.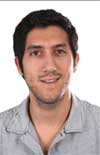 The recommendations appear as list of thumbnail images in a section titled "Other Videos You May Like," below the video player and at the end of the video.
"At Taboola, we have A/B testing built into our culture and product innovations, constantly quantifying the lift our technology provides against different alternative types of recommendations," says Adam Singolda, founder and CEO of Taboola.
"NYTimes.com is a leader in video news and information, and Taboola's targeted recommendations will help users to navigate The Times' extensive video collection, discover more high-quality videos on topics they like and stay on the site longer."
Taboola says it makes recommendations to over 51 million unique users monthly across of network of publishers including CNN, Kiplinger, Slate, Demand Media, and Revision3.