If you thought that The Social Network was the closest thing that you would get to a true "Facebook movie," think again. A new film project it attempting to let the viewers mold the action through Facebook and Twitter.
The project is called Inside and is being billed as a "social film experience," blending cinema and social media. It will be directed by DJ Caruso, of Disturbia and Eagle Eye fame, and will star Emmy Rossum.
Here's how it is described on the film's site –
This is a completely new genre of Hollywood-class entertainment where the audience can play as much of a role as the A-list talent and actors. Using social media you can interact with characters in real time, affect the plot.

Inside is a LIVE entertainment experience, blending film and social media. You can play a part through Facebook, YouTube and Twitter. So, stay connected.

There will be many twists and turns, and you can keep up with them IN REAL TIME by subscribing to YouTube or following on Twitter and Facebook.
The "Inside Experience" YouTube Channel currently features the official trailer for the film. According to the Inside Facebook page, the plot looks something like this –
Christina is a tough, resilient, 24-year old girl. She's been trapped in a room. She has a laptop. And she needs your help to get out.
Check it out –
It looks like viewers will be able to send Facebook messages and tweets in real time and the characters will respond to their suggestions. Apparently, the course of the completed, final film will be determined by the various social media interactions that the characters have with the public.
The first installment begins on Monday July 25th at 2 p.m. EST.
A Twitter account for the film has been created in the last day, and has only one tweet so far –
@theinsideexp
TheInsideExperience Get a first look at Hollywood's first #socialfilm. Check out the INSIDE official trailer here: http://t.co/y8McKQ7 #theinsideexperience

18 hours ago via web · powered by @socialditto
Part of the deal involves a cameo by one lucky viewer who will act int he final film alongside Emmy Rossum. People are being asked to submit audition videos to YouTube by July 20th. The film's site gives hopeful actors a set of guidelines for their videos that include the following two script options –
Script Option 1:
Hi Christina. My name is (say your name here). We don't know each other, but I want to let you know that I'm thinking about you. We all are.
I don't know why this happened to you, or who did this to you, but we will find you. We're all in this together. So please stay strong. Help is on the way.
Script Option 2:
Christina. This is (say your name here). And I'm not just gonna sit back and let someone do this to you.
I want to help you. I have an idea. A plan. We're gonna get you out of there, Christina. You can count on me.
After posting your audition to YouTube, you can post it on the film's site. There are currently only a handful of user audition videos available to view on the site's gallery.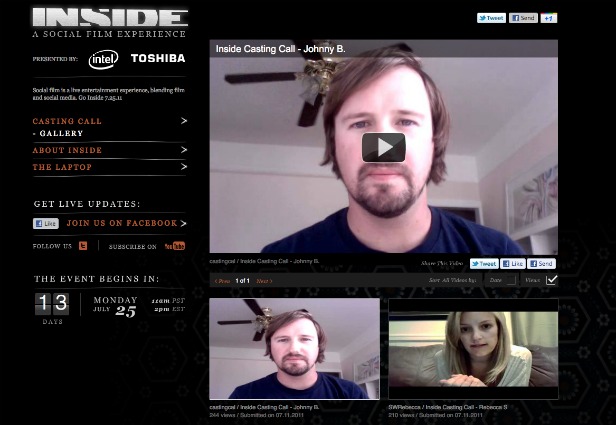 Of course, there has to be some marketing interests behind all of this, and those are the interests of Toshiba and Intel. The laptop that Emmy Rossum will be using to read all of the live tweets and Facebook posts is the new Toshiba Stellite P775 with a 2nd-gen Intel Core i7 processor.
What do you think about this new social film experience? Let us know in the comments.