Barnes & Noble has just announced its all new Nook, and at only $139 it looks poised to challenge Amazon's Kindle with wi-fi only in the market of more affordable e-readers.
The all new Nook is the lightest e-reader on the market. It has a six inch screen with E Ink Pearl display and an is optimized the decrease flashing by 80%. Some readers have complained of the flashing during page turns, causing eye problems with prolonged use. The all new Nook runs on Android 2.1.
Oh, and the screen is a full touchscreen. That's right, it has 37 less buttons than the Kindle 3. Although a touchscreen is nice, I wonder if some people will malign the prevalence of fingerprints and smudges on their reading surface. It might end up becoming a matter of preference that divides consumers – buttons vs. touchscreen on e-readers.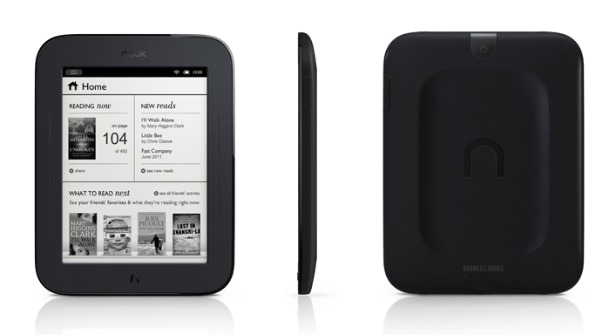 It's precise dimensions are 6.5 inches high by 5 inches wide by .47 inches deep. It weighs only 7.48 ounces, making it 35% lighter than the Nook first edition.
It also sports a purported 2 month long battery life when wi-fi is disabled. This would make the all new Nook the longest lasting e-reader on the market, doubling the battery life of its competitors.
Last month the Nook Color got an update, giving it its own app store and Froyo with Flash capability. This upgrade made the e-reader much more of a standalone tablet than anything else.
ALong with the upgrade, Barnes & Noble introduced "Nook Friends," their own little social network built around books. The new "Simple Touch Reader" continues the trend towards social, integrating Nook Friends into the reader:
From the home page, customers can see book recommendations from friends. See what your friends have posted about their current read, swap recommendations, share reading status, favorite quotes, and much more. Through Twitter® and Facebook® integrations, right from their current book, customers can tweet the title they're reading, post on their Facebook wall and see what their NOOK Friends "like" on Facebook. With Barnes & Noble's exclusive LendMe® technology, you can also lend eligible books to your friends at no cost for 14 days, and see and request to borrow friends' LendMe books.
And coming in the next few weeks, Barnes & Noble will offer a new custom website, mynook.com, where customers can get recommendations from Barnes & Noble expert booksellers and NOOK Friends, access their NOOK Library™, and manage their device.
The Nook's main competitor, the Kindle remains priced at $139 as well for it's wi-fi only model. Last month, Amazon unveiled the "Kindle with Special Offers," an ad-supported model that sells for only $114.
The all new Nook "Simple Touch Reader" is available for pre-order online. On June 10th you should be able to grab one at your local stores.
New Nook image courtesy of Fast Company