The Associated Press has released its 2010 edition of its Stylebook with a new section focused on social media for the first time and has announced that "website" is now one word.
The new social media guidelines section includes information and policies on using Facebook and Twitter, how journalists can apply them to their work and how to verify sources found through them.
Also included are 42 separate entries on such terms as app, blogs, click-throughs, friend and unfriend, metadata, RSS, search engine optimization, smart phone, trending, widget and wiki.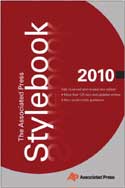 The AP said the change from "Web site" to "website" was based on increasingly common usage both in print and online.
"In making the change, the Stylebook team considered responses from our staff as well as readers and users of the Stylebook. It was clear that website has become the widely accepted usage," said Darrell Christian, AP editor-at-large.
"We solicited reader suggestions for the new Social Media section and received 237 responses, with a large number of commentators urging us to change to website," he said.
"Web" remains a capitalized proper noun when used as a shortened form of World Wide Web, and e-mail, with the hyphen, remains unchanged for electronic mail, along the lines of similar phrases such as e-book, e-reader and A-list.