NASA said today it will give 50 of its Twitter followers the chance for a closer look at the next space shuttle mission during a Tweetup Tuesday, November, 9, at the agency's Johnson Space Center. Space shuttle Discovery is scheduled to launch on an 11-day mission to the International Space Station on Nov. 1 at 4:40 p.m. EDT.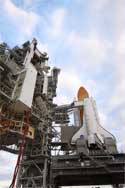 Those who take part in the Tweetup will tour the center; view mission control and astronauts' training facilities; and speak with managers, flight directors, trainers and astronauts. The participants also will meet the team behind the tweets on @NASA and @NASA_Johnson.
"The Tweetup attendees will get to visit the home of mission control during one of the last two scheduled shuttle flights," said Stephanie Schierholz, social media manager at NASA Headquarters in Washington.
"In addition, they will get to share their experience of the excitement of human spaceflight with their followers around the world."
Registration opens at 10 a.m. EDT on Tuesday, Oct. 26, and closes at 10 a.m. on Thursday, Oct. 28. NASA will select participants randomly from those who register online.