NASA is inviting the public to send questions for its astronauts via Twitter during the space shuttle Endeavour's upcoming mission to the International Space Station.
Astronaut Mike Massimino will take questions for the crew from the public via his Twitter account until Thursday, February 11. Massimino will be a spacecraft communicator, at NASA's Mission Control in Huston during Endeavour's flight, scheduled for launch February 7.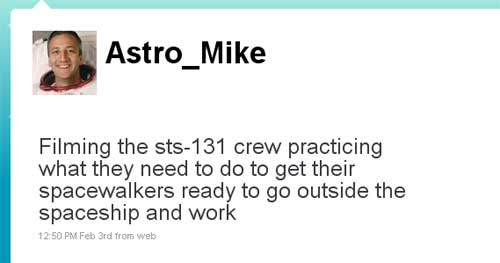 At 2:24 a.m. CST on February 11, Massimino will host the event with the crew from his console in Mission Control. He will ask the astronauts as many submitted and live questions as possible during the 20-minute time period. The shuttle will be docked to the station during the live question and answer session. The event with Endeavour's crew will be broadcast live online and NASA Television.
The public can start tweeting questions for the Endeavour's crew today to Massimino's Twitter account, @Astro_Mike, or add the hashtag #askastro to their tweets.
The time and day of the Twitter session are subject to change due to mission priorities.

Related Articles:
> NASA Invites Twitter Followers To Space Shuttle Launch

> NASA Astronaut Sends First Real Tweet From Space

> Schmidt Speaks At NASA Celebration