Some companies and marketers might still be wary about working with social media influencers, but there's no denying it's one of the most powerful marketing tactics today.
The power of influence marketing stems from consumers' eroding trust in brands. These days, the majority believe and rely on word-of-mouth reviews and recommendations. One Nielsen study revealed that this type of recommendation surpasses other types of advertising. As a matter of fact, 83% of Americans were found to trust endorsements from people they know while 66% believe in the opinions that fellow consumers posted online.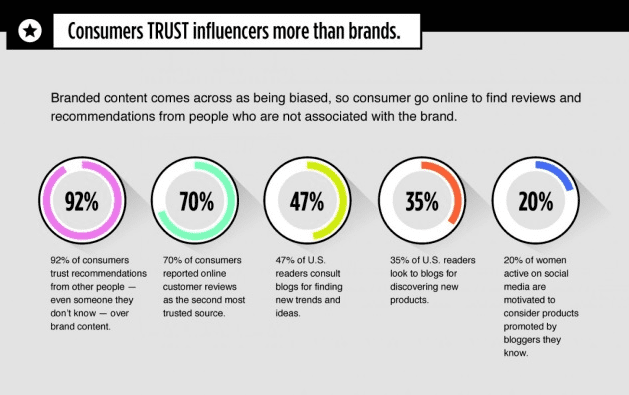 Graphic via Smart Insights
One of the main hurdles companies face when they decide to go with an influencer marketing campaign is how much to pay an influencer. Hiring the services of an influencer can range from several hundred dollars to millions. Plus, there are other factors to consider, like exclusivity, rate of engagement, and number of followers.
While there's no rigid pricing structure behind influencer payments, there are some basic guidelines that companies can refer to.
Types of Influencers
There are several types of social media influencers, and their reputation and influence play a major role in how much they're worth. Based on the numbers, there are five tiers or levels of social media influencers.
The first tier, or the icon tier, is typically composed of big name celebrities like pop singer Katy Perry or soccer star Cristiano Ronaldo. These influencers usually have 5 million or more followers.
The next tier, the trailblazers, are populated by well-known people like chef Guy Fieri and motivational speaker Tony Robbins. Their followers likely range from 2 to 2.8 million.
The next three tiers are dubbed the Influencer (800K+ followers), the Micro Influencer (221K+ followers, and the Super Micro Influencer (50K+ followers).
Surprisingly, it would appear that celebrity endorsers are not always the best choice when it comes to influencer marketing. Despite their status and their millions of followers, posts shared by tier 1 influencers actually had less organic engagement. That means their followers were not as active to like, share, or comment on their posts.
Meanwhile, tier 2 and tier 3 influencers are shown to be more popular on social media and provide the highest rate of engagement. About 28% of people who see content from a Trailblazer will comment, like, or share the post, while tier 5, or super-micro influencers, have an engagement rate of only 10.25%.
Ballpark Figures Based on Platform
How much a social media influencer charges per post depends on several factors like number of views and impression and whether a post includes a product image or video. However, two key factors that also affect cost are the influencer's average number of followers and the platform they will be using.
Bloggers: For bloggers, their rates would depend on the site traffic and the monthly impressions the blog gets. For instance:
10,000 to 50,000 monthly impressions: $175 to $250 per post
50,000 to 100,000 monthly impressions: $250 to $500 per post
The price goes up as the monthly impressions get higher. A blogger can charge as high as $1,000 to $5,000 per post if they can hit over 500,000 monthly impressions.
Instagram: Influencers using this platform usually charge based on the number of followers.
Less than 10,000 followers: $93 to $137 per post
10,000 to 50,000 followers: $133 to $185 per post
Some social media agencies typical starting rate for Instagram influencers is $1,000 per 100,000 followers. The rate is then adjusted based on factors like the client's budget, length of campaign, and engagement rate. Companies should also expect to pay more if they're working with a talent agency instead of dealing directly with an influencer.
Snapchat: Rates here would depend on the amount of views the post accumulates during its 24-hour lifespan. Companies that use Snapchat campaigns the following rates:
1,000 to 5,000 views: $500 per campaign
5,000 to 10,000 views: $1,000 to $3,000 per campaign
For views 50,000 and higher, the company can expect to shell out anywhere from $10,000 to $30,000.
YouTube: Vloggers or influencers on this platform reportedly earn the highest. This is due to the content taking longer to create and demands the most technical prowess. The posts also have the highest reach, as they can be searchable permanently. Brands that are considering working with vloggers can expect the following rates:
50,000 to 100,000 subscribers: $500 to $1,000 per video
100,000 to 500,000 subscribers: $1,000 to $3,000 per video
Over 500,000 subscribers: $3,000 to

$5,000 or higher per video
Endorsement deals on YouTube also depend on several factors, like how many talking points the influencer would give or whether there's an additional link in the video. The format, how many seconds the video will run, and the industry the clip is aimed at also affects the price.
Social media influencers can be an important part of your marketing campaign. The right influencer can do wonders for a brand. Luckily, the rates of social media influencers are pretty flexible, so it's possible that you don't have to shell out tens of thousands of dollars for an influencer campaign.
[Featured Image via robkardahian Instagram]