Today is, for better or for worse, the last day many people will have off before heading back to work or school and resuming normal life. And if you have lots of stuff to do, good luck. But if you're a bit bored – maybe still stuck at a relative's house or just out of books to read – here are some of the "Most Stumbled Sites of 2009."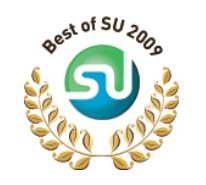 One important note: The sites were divided into ten categories, and in each category, three sites were named. So for the sake of not overwhelming you, we're just hitting the highlights. Click through to the original post on the StumbleUpon if you've got even more time on your hands.
Jim Jarmush Quote came out on top in the Arts category with 278,000 stumbles. 99 Things You Should Have Seen On The Internet won the Bizarre/Oddities field with 471,000 stumbles. Next, 26 Cakes Perfect for Geeks placed first in the Food/Cooking group with 290,000 stumbles.
Air Traffic in 24 Hours won in Environment. Humor was headed by Cheat Sheet for Travelling Back in Time. 8 Tracks Mix: Songs that Make You Feel Better did best in Music. And Peter Funch Street Photography triumphed in Photography.
Finally, Robot/People Art by Kacie Kinzer beat the competition in Science. 12 Most Amazing Pools in the World topped everything else in Travel. And Ball Droppings fascinated folks among Video Games.
Related Articles:
> StumbleUpon Integrating More Social Aspects Into Redesign
> StumbleUpon Goes Search With New Incarnation