Even before all of this Google "social layer" talk started, we talked about how Google already had many of the components of a powerful social network – just spread out across different products. Basically, there just hasn't been an effective way of bringing it all together for users.
How would you like to see Google bring it all together? Share your thoughts.
Putting The Pieces Together
It looks like Google is trying to correct that, as various hints have been revealed over the last few months – the navigation bar, the updated profile, and the Google accounts for YouTube users are a few that come quickly to mind.
It appears that Google is more adamantly promoting (or inserting, rather) the Google Profile in more of its services.
MG Siegler points to a note left on the Google Groups message board, saying, "Google Groups-specific profiles will no longer be supported. Instead, you will be able to use the new Google Groups to (optionally) link your new and improved Google profile with your groups. Starting July 1st 2011, you will not be able to make changes to your Groups profile. Your profile information will be available for export from your profile page until November 1st 2011. This change will not affect the nicknames you might have chosen for yourself to participate in groups. It will only affect the custom profile fields, such as your photo, location, and occupation.
One more example of things being more tied together.
Going Public
He also points to the following message in the Google Profiles Help Center, as previously pointed out by The Next Web:
The purpose of Google Profiles is to enable you to manage your online identity. Today, nearly all Google Profiles are public. We believe that using Google Profiles to help people find and connect with you online is how the product is best used. Private profiles don't allow this, so we have decided to require all profiles to be public.
Improving Search?
That's a very significant factor of all of this as well. We have to wonder if this won't backfire in some Google Buzz-like privacy backlash, but it will certainly ensure that content there will be discoverable – by users, and perhaps more importantly to Google – by its search index.
You know how Google won't do much in the way of connecting with your Facebook account? That hurts it in search (one area where Bing has an edge and Facebook itself could become a dangerous threat). Remember when Google CEO Eric Schmidt said they'd find other ways to get that data? This may have been at least part of what he was referring to. Of course that involves people using the profiles, but we'll see how that goes.
Google's Profile Message continues:
Keep in mind that your full name is the only required information that will be displayed on your profile; you'll be able to edit or remove any other information that you don't want to share.
If you currently have a private profile but you do not wish to make your profile public, you can delete your profile. Or, you can simply do nothing. All private profiles will be deleted after July 31, 2011.
The Components of a Good Social Network
So let's look at some of the components that when brought together would give Google more of a social network-like experience:
1. Google Buzz – The Newsfeed
2. Google Profiles – The Wall
3. Picasa Web Albums – Photos
4. YouTube – Videos
5. Google Music (pending) – Music
6. Android/The Android Maket – The platform and means to obtain apps usage (including games)
7. Chrome/Chrome OS/Chrome Extensions Gallery/Chrome Web Store – Same as Above
8. Google Latitude – Location-based service/Check-Ins
9. Blogger – Blogs (More open version of Facebook Notes)
10. Gmail – Email, Chat, Video Chat
11. Google Calendar – Event organization
12. Search – important to any social network
13. Google Docs and Google Wave (tech still could appear in other services) – Group collaboration
14. Google Apps – Getting it used internally at businesses and schools
15. Aardvark – Q&A
16. Google Reader – Easily Follow news sources and share links
17. Knol – Wiki-like content to provide information pages about subjects (note: not wiki-exactly, but certainly a competitor to the information pages on Facebook)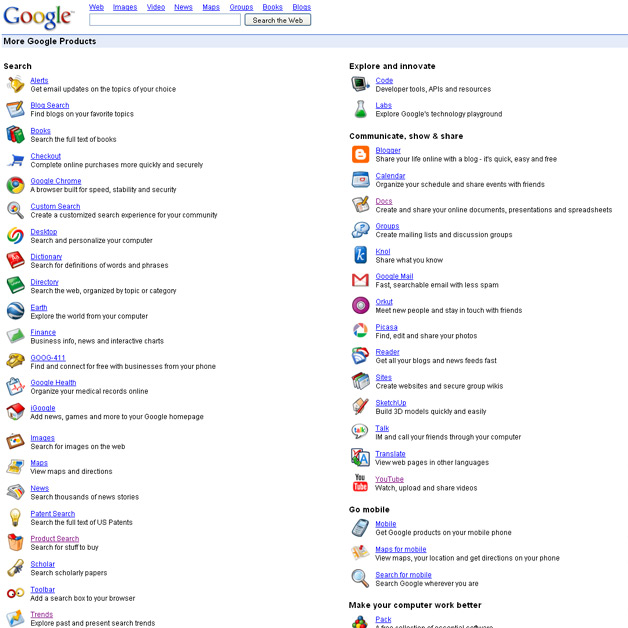 All of this can be expanded upon and promoted in Google's most powerful product – search. Google also continues to rapidly acquire new companies, which will no doubt fuel the strategy even more.
The bringing together of all of these assets in a thoughtful and useful way will be critical, which is probably why it's taking so long. Google's not rushing this, because it could have a huge impact on the company's whole future going forward. Much of it is about staying on the cutting edge of web technology – the biggest area where Google has to compete with Facebook. Facebook is taking away a great deal of engineering talent that might have once gone to Google instead (or in many cases actually came from Google) – much how Google was doing to Microsoft a decade ago.
Google has been criticized for its social efforts a lot over the years. With Larry Page taking the helm again, and reportedly looking to get back to the more startup-like atmosphere that Google had in its early days, there is another fascinating element of which we just don't know the pending impact.
Can Google compete with Facebook in social? Tell us what you think.