Microsoft announced that it has settled the patent infringement cases it brought against Salesforce.com, and that the two companies have reached a patent agreement in which Salesforce will receive broad coverage under Microsoft's patent portfolio for tis products and services. This will also apply to Salesforce's back-end server infrastructure.
In addition, Microsoft gets coverage under Salesforce's patent portfolio for Microsoft's products and services.
"We are pleased to reach this agreement with Salesforce.com to put an end to the litigation between our two companies," said Horacio Gutierrez, corporate vice president and deputy general counsel of Intellectual Property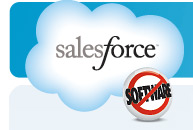 and Licensing at Microsoft. "Microsoft's patent portfolio is the strongest in the software industry and is the result of decades of software innovation. Today's agreement is an example of how companies can compete vigorously in the marketplace while respecting each other's intellectual property rights."
Details of the agreement haven't been disclosed, but Microsoft indicates that it's being compensated by Salesforce, based on the strength of Microsoft's patent portfolio in the areas of operating systems, cloud services and CRM software.