LinkedIn has announced some upcoming features related to the way users browse their connections. The company says users will start seeing the changes over the next few weeks.
There is a new browse panel, which allows users to browse their connections by their current companies, locations, and industries. They can also search connections by entering their first name, last name, or current company in the search box. Users can browse new connections and connections that may have also recently added connections by using the "Recent Activity" filter.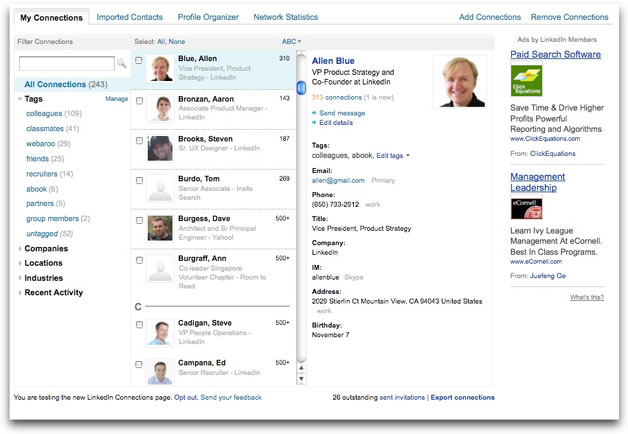 Connections will have mini-profiles that can be viewed, where users can see if they have changed current positions, added new connections, or sent them a message. "You can look up contact information like phone numbers, email addresses and physical mailing addresses," says LinkedIn's Jatin Shah. "You can also add this information yourself by editing the contact information of connections in your address book."
Under the new design, connections are automatically tagged with keywords (like "colleagues", "friends", "partners" and "group members") based on info users provide when inviting them to connect with them. Users can also organize connections into different groups with tags, and send a message to multiple connections at once based on how they've organized them.
LinkedIn reminds users that the enhancements are in beta, and they can opt-out from using them as long as that's the case. They are however encouraging feedback.

Related Articles:
> LinkedIn Launches Faceted Search Feature
> LinkedIn Launches New Design