In August, RIM announced the BlackBerry Torch and BlackBerry 6 operating system aimed at delivering "integrated and uncompromising capabilities for consumers and business professionals". Now LinkedIn, the social network for business professionals has a new app designed for this device and operating system.
The version comes with a redesigned member profile for easier connecting and communicating with professional networks. "In addition to the layout changes, we've also added several new sections to the profile, such as recommendations," explains LinkedIn's Laukik Watve. "A great way to build your own network is by viewing other people's connections, and now you can easily view the connections right from the profile screen. Even better, we've added access to our popular 'In Common' feature. Now if you are about to meet someone new, you can quickly find out who you know in common with that person with just a single click."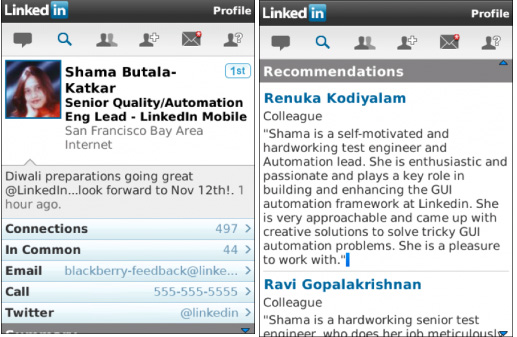 The updated app also makes it easier to view detailed profile updates within Network Updates. "From a profile update, you can now tap on your connection's name to go to the top of their profile, or tap on any section to jump right to that section," notes Watve.
This week, LinkedIn started letting users customize their profiles with five new profile sections, so you can now show off your publications, languages, skills, certifications, and patents (and see those of others).
LinkedIn has long had a reputation of being the go-to place for professional networking, recruiting, and job searching in the social media world. Even as Facebook and Twitter have stepped into its territory to some extent, LinkedIn has managed to keep improving in the space where it excels, adding more useful, business professional-targeted features.
LinkedIn knows its place in the social media space, and keeping its app updated for BlackBerry should continue to be a priority, as these RIM devices are still a popular choice among business professionals.
The new app can be downloaded here.