LinkedIn made a couple of announcements today. First was an update to its Company Follow Feature, and second was the introduction of its new Career Pages.
Company Follow has an updated look and feel with better customization, more personalized insights for professionals, and a new Career tab for both companies and professionals.
The first thing you see with the latest version is a newly redesigned look and feel of the page itself," says LinkedIn's Ryan Roslansky. "In addition, companies' new updated pages keep members in the loop with customization of relevant updates from the company whether it be blog posts, jobs, company news or corporate twitter feeds."
"The second biggest change you'll notice is the personalized, insightful view of the company that now makes it easier than ever for you to see your first and second degree connections while researching the company as well as more information on the daily activity of that company on LinkedIn," adds Roslansky. "It provides a very unique perspective on how the company has evolved on LinkedIn over time, the representative profiles of employees at the company and the composition of the company's employee base. This information can come in very handy for professionals ranging from job seekers to those in business development."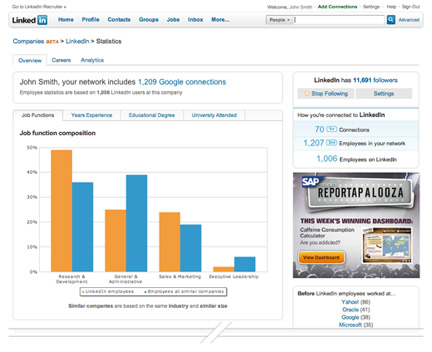 The Career Tab is the biggest addition. When a user goes to a company profile page, LinkedIn says they'll be able to understand the rang of opportunities a company has to offer, based on the user profile.
Likewise, the new career pages can be customized so they adapt to the viewer. Different jobseekers will see info more relevant to them. There is also a new analytics feature that shows what kinds of professionals are interacting with their pages.
There are new editing capabilities for realtime updating, customizable modules to showcase things like benefits, projects, etc., and a new "Contact a Recruiter" feature.