There is a new LinkedIn app called Creative Portfolio Display. The app lets users in creative industries like advertising, fashion, design, architecture, film, photography, and digital media, access tools to manage and showcase their portfolios.
"Personal websites don't adequately broadcast your work for discovery by industry peers and top companies and neither is it tied to your professional identity on the web," says Scott Belsky, CEO of Behance, which created the LinkedIn app. "Plus, keeping your work samples up to date on multiple websites is inefficient, resulting in portfolios becoming outdated and forgotten."
That's where LinkedIn Creative Portfolio Display comes in. Belsky lists the following key features:
From one central portfolio, your work can be displayed within LinkedIn, Behance.net, AIGA, MTV, and other networks/galleries around the web.
The Behance Network is a free service, allowing you to host an unlimited number of multimedia projects that include still images, video reels, text, and/or audio samples.
Creative Portfolio Display seamlessly syncs with your free Behance.net account; Create a new portfolio project on Behance.net, and it instantly appears on LinkedIn and our other partner platforms.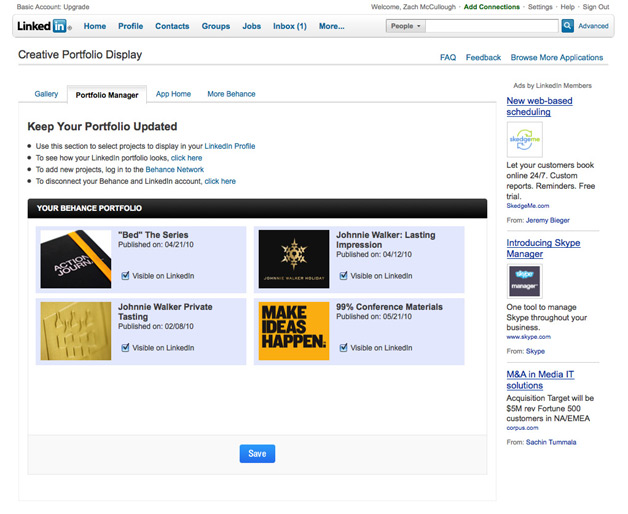 This may prove to be an invaluable tool for LinkedIn users. The professional social network already plays a huge role in job hunting and recruiting, and this should aid many of those seeking candidates and employers in making important decisions.
This is going to be a big app for LinkedIn.