So we've all heard the news that the rapture may, in fact, happen tomorrow at 6pm. Biblical numerologist Harold Camping sez that a sweeping rapture will take around 200 million souls to heaven, leaving the rest of us here to, I'm assuming, ride roller-coasters and eat at Bob Evans until October 21st, the day when he says the world will actually end as we know it.
Fun.
Here are some things you can do, whether you believe that the end times are upon us or not – and whether it actually happens or not.
Let's say you don't fear the the apocalypse is coming, but you know people who do. Well, here's what you should do: Rapture Prank.
The idea is swirling around the interwebs that the best thing to do tonight and early tomorrow morning is to discard you clothing, shoes and other personal effects around the streets of your town. Hopefully, it will look like you have been raptured. The people who believe in the rapture will think they have been passed up, and hilarity will ensue. Twitter is seeing two hashtags emerge, #RapturePrank and #RaptureBomb, the latter seems to be promoted by Gizmodo.
@kevinism
Kevin Pakdivichit#Rapture prank: On Saturday, take some of your old clothes and shoes and leave sets of them arranged on sidewalks and lawns around town.

2 days ago via TweetDeck · powered by @socialditto
@Gizmodo
GizmodoAnybody have good #rapturebomb ideas? I was thinking of sitting some clothes on an old bicycle. http://gizmo.do/lNCPcr

1 hour ago via Tweetie for Mac · powered by @socialditto
@timcarvell
Tim CarvellIf you want to ditch your Judgment Day-believing family forever and really mess with their heads in the process, tomorrow's the day to do it

1 hour ago via web · powered by @socialditto
So what if the Rapture actually does take place as predicted. Well, damn. You're left behind. Kinda sucks, but what to do now?
Well, the first thing you're going to want to do is start looting. Yes, it might seem odd to begin to erode the fabric of humanity and decency so soon – but if you don't then somebody will. And you don't want to be left with all the crap guns and Kroger-brand chili. You want the good stuff.
Right now, an event is popular on Facebook entitled "Post rapture looting." It's info says "when everyone is gone and god's not looking, we need to pick up some sweet stereo equipment and maybe some new furniture for the mansion we're going to squat in."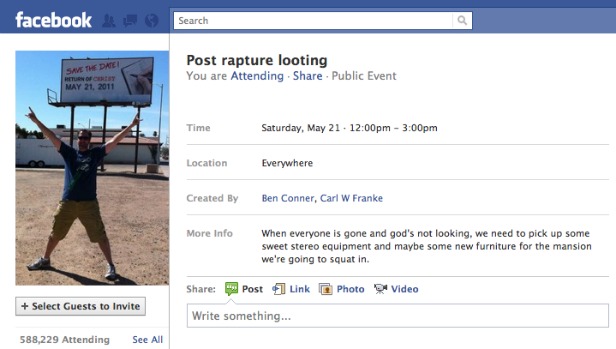 True. But almost 600,000 are RSVP'ed as attending. So there is going to be stiff competition for the quality loot. 46,000 are listed as "maybe attending." They will not act fast enough and miss out on the good stuff. 90,000 are not attending, meaning that they are either choosing to abide by some sort of law and order that won't exist, or they feel like they will be gone and won't have the need to loot anything.
Okay, now for the rapture believers. If you believe that you will indeed be leaving this world tomorrow, you must worry about your pets. Eternal Earth-Bound Pets USA can help.
The service has been around for some time, but they are obviously booming as of late. Eternal Earth-Bound Pets USA labels itself as "the next best thing to pet salvation in a post rapture world." They are a group of animal loving atheists that for $135, will care for your pet if you are taken in the rapture. Contracts last 10 years, and you can add additional pets for $20 each.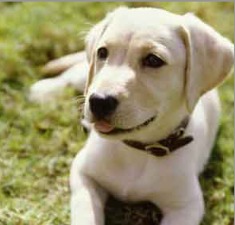 Don't leave your beloved puppy to be eaten by hungry post-apocalyptic travelers.
Note: There has been excessive traffic to their inbox. Here's what they say:
IMPORTANT NOTICE 5/20/11: DUE TO UNPRECEDENTED EMAIL VOLUME OUR EMAIL REPLY ABILITY HAS BEEN MAXED OUT. ONLY CONTRACT SUBMISSIONS WITH PAYPAL SUBMISSIONS WILL BE REPLIED TO IMMEDIATELY. ALL OTHER INQUIRES AND EMAILS WILL BE REPLIED TO BUT WITHIN THE NEXT 24 TO 48 HOURS. OUR APOLOGIES.
What if you have a child in the post rapture world? A question on Quora asks "What are some good post-Rapture activities to do with a 3-year-old?"
I would suggest fairs, carnivals and amusement parks. Maybe a trip to post-apocalyptic Disney World. But the top response on Quora suggests activities based on the book of Revalation:
If you'd prefer a more action-packed role, you could take up polo, since horsemen will be some of the most prominent of the supernatural administrators of Hell on Earth (Revelation 6:1-8).
You could also learn the trumpet, to hang with the six angels of the seventh seal who call forth many of the calamities against the heathen swarms.
The post-Rapture does offer one extreme sport. Using an adapted maker hook, you try to ride the monsters – the dragon (Revelation 12:13-17), the beast from the sea (Revelation 13:1-10), and the beast from the land (Revelation 13:11-18).
I hope this will help all of you. Let's just hope that if the rapture comes, it takes the form of a zombie apocalypse. I've been waiting my whole life for that.