Recently, when Google + launched, a couple of web comics offered their take on the similarities between that and Facebook. Essentially, the implication was Google + is popular because of one main reason: It's not Facebook. The Xtranormal animals have also weighed in, and their take is awfully similar. Google + isn't Facebook, this is true; although, many of the functions G+ offers may seem reminiscent of its primary competitor.
While there's much more of a business feel to Google + at the moment — the Lee Odens, Danny Sullivans and Andy Beals of the world are certainly represented — as more and more casual users (non-Internet industry followers) continue to join, and the API is released, the resemblances will only grow. Feeds will become more whimsical, instead of the current litany of Google +/other ebusiness articles being shared. Expect a "your follower just grew a field of corn" update sometime soon, courtesy of the "Farmville, the Google + Wars" game that's surely upcoming.
As long as Facebook's privacy issues continue to be a concern — valid or not — people are going to look for alternatives, something Google + obviously represents right now. Furthermore, as more and more people join, the popularity of Google + will increase, making it much more appealing to the casual crowd. You know? The type of folks who enjoy Farmville and answering questions about everyone they know on Facebook, while posting these answers to the profiles of the friends they were asked about.
Another area of curiosity is, once Google makes product pages a standard feature of +, will companies start advertising their Google + profile, much like they with Facebook? Will we see "visit our Google + page at plus.google.com/CocaCola" requests, especially if they offer the same kind of functionality as Facebook's group pages do. This leads to another question, will companies advertise on both platforms or will they pick one over the other. Furthermore, could Facebook and/or Google demand exclusivity from the bigger companies in an effort to snatch all the social media traffic that's interested in such-and-such's product?
For instance, let's say McDonald's wants to run with a social media campaign about it's newest sandwich, and Google offers them some kind of incentive to feature the new product only on Google +, or vice-versa with Facebook? Would these companies capitulate to such requests or would they want to use both services in an effort to attract as many eyes as possible?
In other news, although it's in same vein as the Xtranormal video, a nifty animated gif does a good job of capturing the mood people have towards Google +: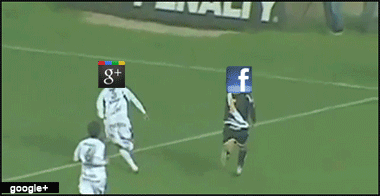 Basically, "we like Google + because it's not Facebook… even thought it's a lot like Facebook."