Update: According to reports, Apple has "quietly reinstated a shopping app from a beachwear retailer that sells bikinis."
Original Article: Apple has dominated tech headlines this week, as the company has created quite an uproar by unexpectedly removing over 5,000 apps from its App Store. The apps removed have been deemed "too sexy", but much of said uproar has been more about Apple's definition of sexy, and its double standard. Apps containing women in bikinis and even workout clothes have been eliminated while apps from Playboy, FHM Magazine, and the Sports Illustrated Swim Suit Issue have remained available, and even promoted on Apple's App Store home page.
Do you agree with Apple's decision to pull some "sexy" apps, while leaving others? Tell us what you think.
After much of the ruckus had been raised, Apple SVP of Worldwide Product Marketing Phil Schiller talked to the New York Times, saying, "It came to the point where we were getting customer complaints from women who found the content getting too degrading and objectionable, as well as parents who were upset with what their kids were able to see." He also indicated that the difference with the Playboy, Sports Illustrated apps, etc. were that they were from well-known companies that were already available in "well-accepted" formats.
Obviously, the developers of such apps that have been pulled are not happy. It's not hard to understand their beef, as many of them have likely put a significant amount of time and money into creating and maintaining their apps, only to have them yanked without warning (other than the emails they got from Apple as they were being pulled). Apple's reasoning for allowing the well-knowns only adds fuel to their fire.
Apple reviews apps on a case-by-case basis. "Whenever we receive customer complaints about objectionable content we review them," Apple has said. "If we find these apps contain inappropriate material we remove them and request the developer make any necessary changes in order to be distributed by Apple."
Some have raised the question: why is Apple suddenly going "puritanical" (one of the apps was removed because of a cartoon character in a bikini)? They have blocked apps in the past, but just to yank so many that have already been accepted into the store seems like a sudden change in attitude. Is it coincidence that the company is readying the release of its much-publicized iPad device, which will run apps from the app store?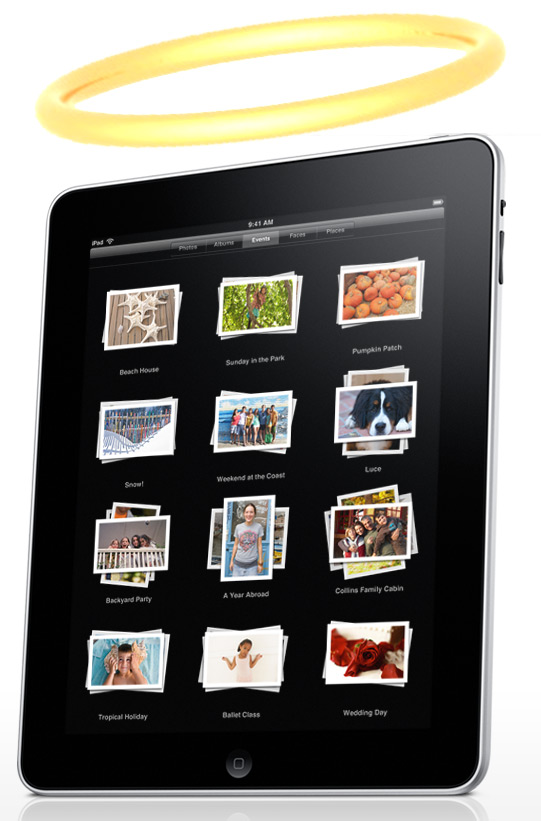 Many think these two things are strongly connected, and some even consider Apple's choice to pull "sexy" apps to be a "smart business decision." For example, PC World's Jeff Bertolucci writes:
As for the iPad, it's clear that Apple will position its new tablet not only as a consumer device for the home, but also as an educational tool. Software developers are already designing interactive textbooks for the iPad, according to reports. Again, Apple must squash the impression that the App Store is a haven for smut to increase the odds of classroom sales. A few negative news stories about wobbly-boob apps could very well spur many school districts to think twice about adding the iPad as a study tool.
Bottom line: The porn purge is a smart business move on Apple's part, even if it appears prudish to outsiders.
Beyond the classroom, Apple may be worried families will be less likely to purchase the iPad as well. The company's comments regarding complaints from parents seems to suggest this very notion.
Not all complaints have come from concerned parents though. Even some developers have complained about apps such as those which have been removed. "Developers have been making similar complaints to Apple, but their concerns are also related to the volume of sexually-themed apps, which can represent as many as a third of the apps in certain iTunes App Store categories," says InformationWeek's Thomas Claburn. "The spam-scale proliferation of these apps ends up making other apps less discoverable."
Others have pointed out, however, that there is plenty of R-rated content available through iTunes in the form of both movies and music, and Apple is keeping that stuff around, although that likely goes back to the same point Apple made about "well-known" and "accepted" sources. Many have also pointed out that users can always go to the web browser on their device and access all kinds of "nasty" stuff, but Apple doesn't own the web, so unless Apple wants to start censoring the Internet, it is going to have a hard time keeping "sexiness" off its devices, even from lesser known sources. Apple can't control that though, but it can control its own App store, and it is doing so.
Meanwhile, Google's Android Market is growing significantly, and is currently in second place behind Apple's App store in mobile application stores. Google has a significantly greater percentage of free apps as well, which could continue to fuel its growth. Perhaps another question is: can Apple afford to yank so many apps at a time when its competition is becoming greater than ever in the mobile space? Apple's controlling "Puritanism" could come back to haunt it, despite its apparent motives. Evidently, that's a chance the company is willing to take.
Do you think Apple is making the right decision by pulling all of these apps? Will Google benefit? Share your thoughts here.