A Facebook phone has been spotted in the wild.
Well, actually in the hands of Foursquare CEO Dennis Crowley. Today, at Tech Crunch's Disrupt 2011, Crowley made an announcement about Foursquare and the INQ Cloud Touch smartphone.
The INQ Cloud Touch is colloquially referred to as the "Facebook Phone" because the social network is deeply integrated into the Android OS on the phone. Today is was announced that along with Facebook integration, the Cloud Touch will now power its location services with Foursquare.
From the Foursquare blog:
The launch of the service is still a few months out, but the early builds are pretty awesome. Foursquare is a built-in part of the Android OS, with all the features you know and love (Check-ins! Recommendations! Places nearby! Tips! To-dos!). Coolest thing of all: INQ was able to do this using our open API, joining the thousands of other developers who have made foursquare location a core part of their products. Because it's built directly into the Android system, you can check in and explore without even firing up the application.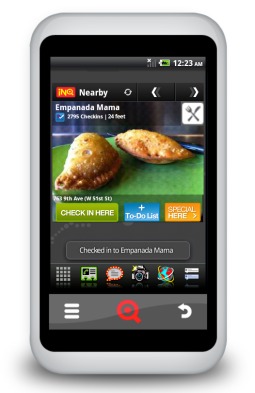 Dennis Crowley said that it is an "awesome demonstration of the power of Foursquare. We're psyched that INQ has chosen Foursquare to power the location layer on the INQ Cloud Touch."
"The Foursquare experience on INQ is all about engaging a customer to really explore and discover interesting places. First, we're looking to make it really easy for a consumer to discover and sign up to foursquare itself, via the start-up sequence. Then we're taking Foursquare's great knowledge of the world around you and visualizing that on your home screen, enabling you to explore events, restaurants, clubs, etc. and even bookmark places in a to-do list," said INQ CEO Frank Meehan on the INQ site.
The Foursquare integration will roll out for European and Asian Cloud Touch users in 6 weeks. There was still no time-frame announced for the Cloud Touch's launch in the States.
This integration looks to be part of Foursquare's attempt to streamline its service, and make it "less clunky." Last month at a tech event, Dennis Crowley talked about the future of Foursquare, suggesting that things like predictive check-ins and better recommendations were in the pipeline.
Recently, Foursquare experimented with NFC technology for check-ins at Google's I/O conference. And today it's been reported that they are poised to partner with Groupon on location-based deals.
Foursquare averages 3 million check-ins from its over 9 million users daily.