Microsoft announced that Internet Explorer 9 is now available for download. It's already getting some pretty positive buzz, particularly for an Internet Explorer release.
Ed Bott at ZDNet calls it "the most ambitious browser release Microsoft has ever undertaken". Pretty strong words.
The download even has its own special domain at BeautyoftheWeb.com.
So what does IE9 do that is so great?
It's faster than IE8 and Firefox, but slower than Safari, Opera, and Chrome by some reports. It has a new system of warning about malicious downloads, and it give you warnings about when your add-ons are slowing down your performance. I could see this feature being either helpful or annoying.
Microsoft's whole angle for the browser is that its "putting sites at the center of the browsing experience", and it uses more of the computer to try and accomplish this. "Before IE9, browsers used perhaps 10% of the PC's capability," says Microsoft's Dean Hachamovitch. "IE9 has shown the clear performance benefits with full hardware-acceleration of webpages. Our approach in designing a site-centric web browsing experience also involves using everything available around the browser. We see all the pixels and code that people need for a significantly better browsing experience already there on the screen."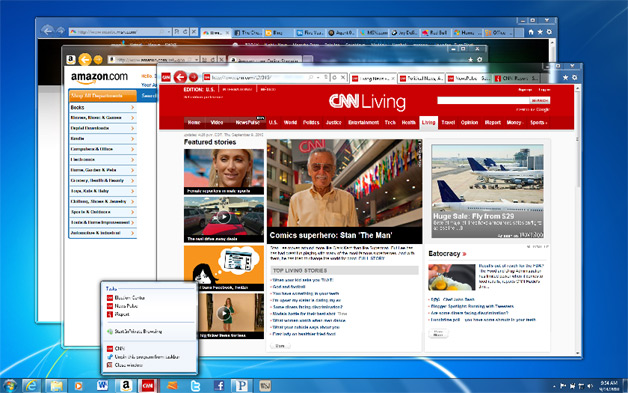 Users can pin sites to the Windows 7 taskbar, like they would do with applications, creating a shortcut. What's interesting about this is that sites can actually program "jump lists" for pinned sites, to make common tasks easier for users. They can program notifications when the user pins them in the task bar. How many sites actually take advantage of this remains to be seen.
The thinking appears to be along the lines of replacing the browser with OS, almost the opposite of Google's Chrome OS, which is more about replacing the OS with the browser. Interestingly enough, they both represent the continued merging of the two interfaces.
IE9 also uses Aero snap functionality, which will be familiar to regular users of Windows 7. Users can snap to browser windows side by side for convenient double browsing. Tabs are draggable, in or outside of the current window (much like Chrome), and can be snapped. The address bar, called "the one box" is also fairly Chrome-like in that it also serves as a search feature.
"The browser supports HTML5 and 'other modern standards'," says Hachamovitch. "The people who build the web have better ideas for their customers than browsers have been able to deliver to date. With IE9 this situation starts to change. Websites can offer richer experiences because of fully hardware accelerated HTML5. Those richer experiences now blend comfortably and consistently into the consumer's desktop experiences. The focus should be on the site, not on browsing and browsers."
You must have Windows 7 or Vista with SP2. It is not compatible with XP.