Social media plays an important role in problem solving and strategy development in the workplace according to a new survey of 900 human resources executives conducted by Toolbox.com and PJA.
Among HR executives and professionals, social media usage outpaced editorial and vendor content consumption. Respondents used social media at a rate of 3.77 hours per week, compared to 2.77 hours of online editorial content and 2.13 hours of online vendor content.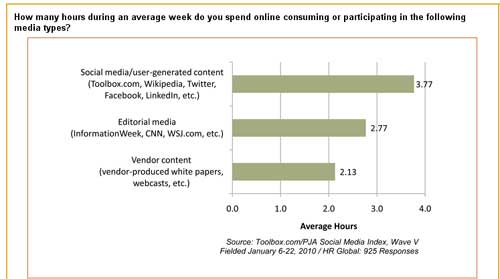 The survey indicated active participation in social media is an important part of the HR job role and acts as a resource for experience-based knowledge in the workplace. Respondents said staying current (78%) and networking with peers (71%) as the most popular uses of social media.
Additionally, more than half have responded to a question asked by a peer in an online community, while nearly 50 percent have built their personal knowledge network by making connections with peers.
"This survey proves HR professionals have been fast adopters of social media, not just for networking but for improving their value as professionals," said Mike O'Toole, president at PJA Advertising + Marketing.
"They clearly identify social media channels as a way to increase their expertise and build their professional reputation."
Key highlights from the survey include:
*Social media represents 43% of total media consumption among HR respondents (compared to 32% for editorial and 25% for vendor content).
*Deep experience is seen as the most important attribute in a social media expert, followed by thoughtful and detailed responses.
*Nearly half of respondents say that a social media presence greatly increases or increases their value as a job candidate, while more than 50% claim that social media is important or very important in building their personal brand.