As a group, search engines appear to be in the process of losing bragging rights in Australia. Social networking sites and forums (also taken as a group) topped search engines in terms of market share over Christmas and are poised to assume the lead on a permanent basis.
Hitwise's Alan Long wrote this morning, "The chart below confirms that during the week of Christmas . . . the Social Networking and Forum industry category overtook Search Engines share of visits for the very first time. While this looked like a short term lead, we are now seeing continued growth of Social Networking and Forums to now sit just 0.4% share behind Search Engines in week ending 16 January 2010."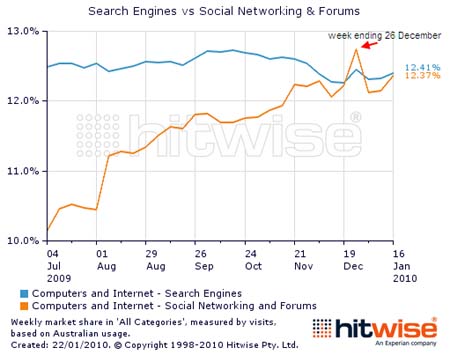 That's an impressive fact, especially if you consider how far social networks have come in the last six months.
The one potential problem with the Hitwise analysis is that YouTube has been classified as a social network. Marshall Kirkpatrick observed that the site also functions as a search engine, and so social networks and forums may not deserve to have it (and its impressive numbers) on their side.
Still, it's obvious that social networks are becoming more and more popular however the numbers are spliced.
Related Articles:
> More Reporters Using Facebook And Twitter For Story Research
> 33% Of Online Pop. Pegged As "Conversationalists"