Hanes has launched a Facebook campaign today aimed at donating 500,000 socks to The Salvation Army for the holiday season.
Described as a "virtual holiday sock drive," the campaign asks users to "like" Hanes on Facebook and click "Help Hanes Donate," and the company will donate one pair of socks with an overall donation goal of 500,000 pairs. Visitors to the page can watch the progress of the drive via the "Hanes sock-o-meter" that helps track donations against the overall goal.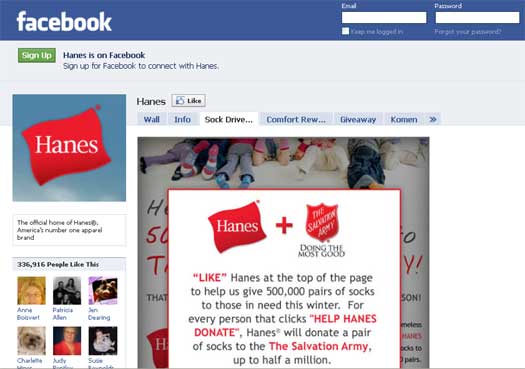 Hanes launched its first virtual sock drive last year after finding out that socks are the most requested item at homeless shelters. In 2009, the company reached its goal of 100,000 pair sock donation with the help of Facebook users in just one day.
"Hanes is proud to bring back this initiative in time for the holidays. Our 2009 virtual sock drive was extremely successful so there was no question we would make a donation again this year," said Sidney Falken, senior vice president, Hanes brand.
"The Facebook application allows us to engage our consumers in the donation process in a way that's fun, simple and makes everyone feel good. Our hope is that people will see their friends participate through their newsfeeds and want to join in on the action so we can reach our goal as fast as possible."