Facebook's won the support of a lot of people as it builds a data center in Prineville, Oregon; an official Facebook Page is full of positive comments from locals. However, because the facility will primarily be powered by coal, Greenpeace – along with around 500,000 individuals – has sided against it.
A campaign to "get Facebook to unfriend coal" has been building momentum for some time, and it appears to have reached a critical mass of sorts today. Kumi Naidoo, Executive Director of Greenpeace International, actually published an open letter to Mark Zuckerberg this morning.
In it, Naidoo stated, "Greenpeace and over half a million Facebook users have expressed significant concerns with your decision to power this data center with dirty coal-fired electricity from PacificCorp, which runs an electricity mix that is disproportionately powered by coal, the largest source of global warming pollution."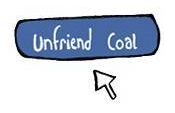 Naidoo would prefer it if Zuckerberg and Facebook would "[c]ommit to a plan to phase out the use of dirty coal-fired electricity to power your data centers" and "[u]se your purchasing power to choose locations that allow you to rely on only clean, renewable sources of electricity," instead.
These requests aren't likely to have much effect in the short term; the Prineville data center is already under construction and Facebook hasn't announced plans to build anything else. Still, it's possible Greenpeace and its supporters will influence the social network to be a little more Google-y in the future, turning to solar and wind power.
Also, in fairness to Facebook, the company's already taken the issue of energy conservation into consideration to some degree. On August 20th, a post on the Prineville Data Center page detailed several power-saving technologies that the facility will employ.
UPDATE: Barry Schnitt, director of policy communications at Facebook, left a comment further describing his company's stance on environmental responsibility and energy conservation.