At a special Chrome Event today Google made some announcements regarding Chrome's usage and strides in its performance. They also launched the Google Chrome Web Store, announced earlier this year at Google I/O. The main thing everybody was really waiting for however, was the launch of Chrome OS.
Well, we got that to some extent. Google announced the Chrome OS Pilot Program, where businesses and consumers can apply to receive a Google Chrome Notebook to use and provide Google with feedback about.
Google gave the announcement following an impressive demo of the OS itself, which still isn't quite ready for true prime time – hence the Pilot program.
"We're not done yet, but Chrome OS is at the stage where we need feedback from real users," the company says. "Some of the features of Chrome OS require new hardware, but we didn't want to sell pre-beta computers. Instead we're launching a pilot program where we will give test notebooks to qualified users, developers, schools and businesses. We're starting with the U.S. and will expand to other countries once we get the necessary certifications. To participate in the pilot program, visit the Chrome notebook website."
The test notebooks used in the Pilot Program are black with no branding. They have 12.1 inch screens, full-sized keyboards and touch pads, integrated 3G from Verizon, eight hours of battery life and eight days of standby time.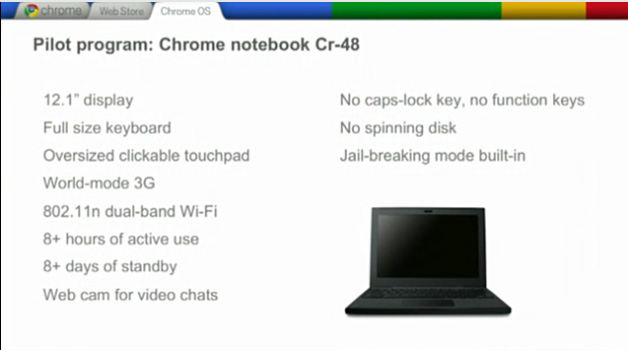 During the demo, Google showed that you sign into the OS, so we asked if you're using a Google account when you sign in. Google said, "You're signing in with your Google Account," but they're working on signing in with different standards like OpenID, OAuth, etc. However, we were also told that "nothing inherently ties Chrome to Google or Chrome OS to Google," and that you don't need to use a Google account to use Chrome OS, just like you don't to use Chrome. You can always sign in with the guest mode, which opens in incognito mode.
"Chrome notebooks are designed to reach the web instantly, are easy to share among friends and family, and simply by logging in, all of your apps, bookmarks and other browser settings are there," the company says. "Setting up a new machine takes less than a minute. And even at this early stage, we feel there is no consumer or business operating system that is more secure."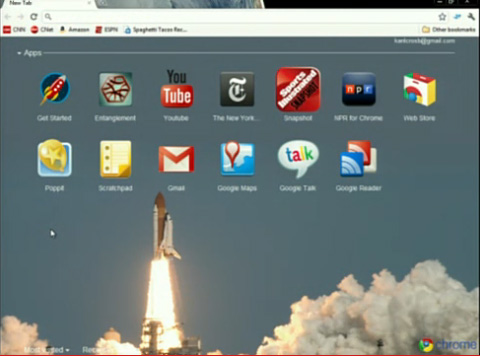 Google has no price information to share, as this will come from partner launches on an individual basis.
Google is putting a lot of stock into Chrome OS being big for the enterprise, largely because of the security it offers. It stays automatically updated and all user data is "heavily encrypted." They also expect to save system administrators a lot of time simply because they won't have to spend time installing and updating software.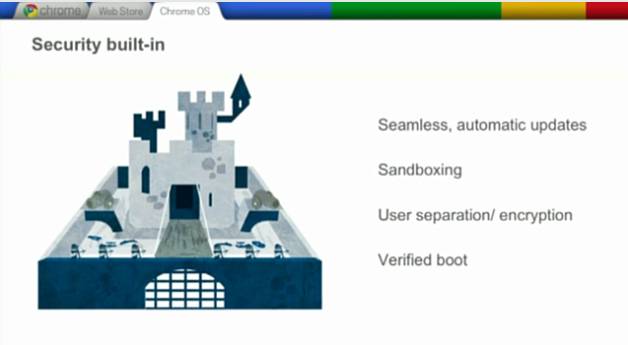 If the partner offerings operate like the model Google used in its demo they will indeed be very fast from set-up to boot to resuming a session after being on standby, when compared to other notebooks. It's back online instantly "every time" Sundar Pichai, VP Product Management says.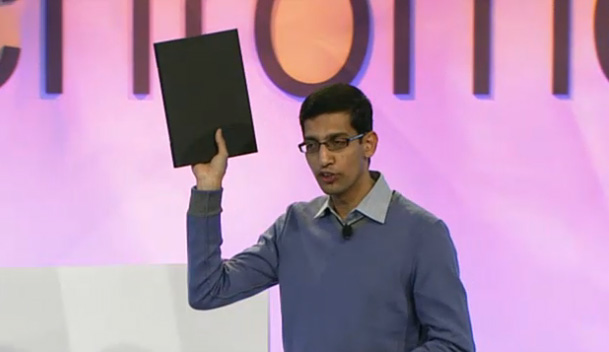 Chrome OS notebooks from Acer and Samsung will be available in the first half of next year, with more OEMs expected to get on board after that.
Google has partnered with Verizon on data connectivity for Chrome OS, because all devices will let you switch between Wi-Fi and Cellular (like 3G). Verizon is giving 100MB data free every month for 2 years. There are no contracts. Users can buy a data day pass for $9.99 or buy different amounts in chunks. There are not activation, overage or cancellation fees.