The American Veterinary Medical Association said today it has launched an online search tool for pet owners powered by Google, called MyVeterinarian.com.
Users can search MyVeterinarian.com by zip code to find a vet in their local area. The search results display the clinic's name, address phone number and business hours; the medical services provided; the species of animals served; and the names of the veterinarians on staff. Practices can also list their website address, and a map is available to show the clinic's location.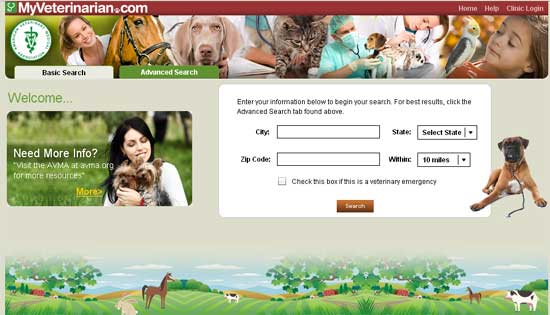 "What makes MyVeterinarian.com superior to other online veterinary search tools is the amount of information we provide about each practice on our site," said Dr. Larry Kornegay, AVMA president.
"There aren't any other sites that give you as much information in one place."
Users can also search the site for specific health and pet -care related topics, such as what clinics might offer dermatologic or behavior services, for example, or where boarding and training is available. A link on the site to the AVMA's Animal Health page provides access to information related to general pet care, emergency and first aid resources, and other pet-related topics. Access to all of the information on MyVeterinarian.com is free.
"Thousands of practices are listed on MyVeterinarian.com, and we're adding more every day," Dr. Kornegay said.
"Pet owners who visit our site can be assured that they are getting information from a trusted source that represents more than 81,500 veterinarians across the country."