Google has unveiled Google +1, at least a significant part of the "social layer" the company has referenced repeatedly over the last several months. We've speculated on such a layer numerous times, and now we have something major to go on.
In a nutshell, Google's social strategy just got a lot closer to Facebook's social strategy. Facebook made huge waves when it launched its Open Graph and social plugins (including the Like Button). Now, nearly a year later, Google is apparently trying to duplicate that.
Can Google duplicate Facebook's success with the "like" button? Tell us what you think.
The video above shows what Google +1 is all about. It's about putting a little "+1" button all over the web, in search results, and in ads. It's not quite as catchy or as call-to-action-y as "like", which makes me think that right out of the box, this will not get clicked nearly as much as Facebook's iconic button. Maybe I'm wrong. What do you think?
+1's are public. Google may show them to any signed-in user who has a social connection to one. Users can choose not to have them displayed publicly on their Google Profile, however.
Does the +1 Button Make the Google Buzz Button Obsolete?
It seems like a fair question, but Google doesn't think so. We'll see if web users agree. The company's official stance on that is, "Buzz button[s] are used for starting conversations about interesting web content ('Hey guys, what do you think about this news story?'). +1 buttons recommend web content to people in the context of search results ('Peng +1'd this page'), and +1's from social connections can help improve the relevance of the results you see in Google Search. Soon, you'll be able to use the +1 button, or the Buzz button, or both—pick what's right for your content."
It seems somewhat counter-intuitive. We'll see how many publishers want to display two different Google buttons. Facebook offers a "like" button with the option to comment. Why not combine them?
Big News for Search
Of course Google puts a major search spin on +1, indicating that it's all about making search results more relevant (this could be achieved with Facebook likes, if the company politics weren't in the way). To recommend something, all you have to do is click +1 on a webpage or ad you find useful. These +1's will then start appearing in Google's search results.
When a user searches, while signed in, their search result snippets may be annotated with the names of their connections who have "+1'd" (that's already more annoying to type than "liked") the page. When none of the user's connections have +1'd a page, the snippet may display the aggregate number of +1's the page has received.
"Our goal at Google is to get you the most relevant results as quickly as possible. But relevance is about relationships as well as words on webpages. That's why we recently started to include more information from people you know—stuff they've shared on Twitter, Flickr and other sites—in Google search results," says project manager Rob Spiro. "Today we're taking that a step further, enabling you to share recommendations with the world right in Google's search results."
"Say, for example, you're planning a winter trip to Tahoe, Calif," he adds. "When you do a search, you may now see a +1 from your slalom-skiing aunt next to the result for a lodge in the area. Or if you're looking for a new pasta recipe, we'll show you +1's from your culinary genius college roommate. And even if none of your friends are baristas or caffeine addicts, we may still show you how many people across the web have +1'd your local coffee shop."
If you'd rather see results from your friends who are most likely already using Facebook and talking about this stuff organically, you might want to check out Wajam, which adds this directly into your Google results via a browser extension. Greplin also has a browser extension now.
Google says it uses "many signals" to identify the most useful recommendations, such as people you are connected to through Google (contacts, people in your Google Talk chat list, people you follow in Google Reader and Buzz). Google also says it may start using other signals like Twitter connections. You can always look at you "social circle" on Google's Dashboard to see who you're actually connected to.
Obviously a Google account is required for +1. In fact, a Google Profile is also required (I've speculated that this will essentially become Google's version of Facebook's Wall, if they ever get all of their services tied together in an effective way, which may still happen with a toolbar). On the Google Profile, you'll see all of the +1s you've clicked (again, kind of like "likes" on the Facebook Wall). Here's what it looks like on the Google Profile page (with a new tab for +1's):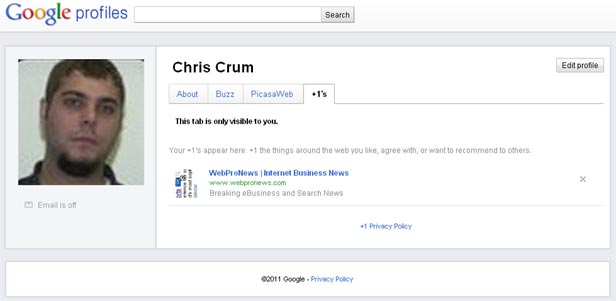 "We think sharing on the web can be even better–that people might share more recommendations, more often, if they knew their advice would be used to help their friends and contacts right when they're searching for relevant topics on Google," says Google's David Byttow, software engineer for the +1 button.
"We expect that these personalized annotations will help sites stand out by showing users which search results are personally relevant to them," he says. "As a result, +1's could increase both the quality and quantity of traffic to the sites people care about."
+1s will become a search ranking factor. Byttow says Google will "start to look at +1's as one of the many signals we use to determine a page's relevance and ranking, including social signals from other services. For +1's, as with any new ranking signal, we'll be starting carefully and learning how those signals affect search quality over time."
They'll have to approach this delicately. We've talked about like-buying for Facebook in the past. With Google, you have a whole other beast.
In a FAQ, Google says, "Content recommended by friends and acquaintances is often more relevant than content from strangers. For example, a movie review from an expert is useful, but a movie review from a friend who shares your tastes can be even better. Because of this, +1's from friends and contacts can be a useful signal to Google when determining the relevance of your page to a user's query."
Google also says it is working on ways to provide webmasters with more data about the impact of +1 on their site's performance in search. The company says it doesn't share personal info about people who have +1'd you pages, but it may provide aggregate demographic info about your +1 audience in the future (such as a certain percentage of your audience being from a certain geographic location).
Join the conversation about Google +1 with us on Facebook:
WebProNewsGoogle Takes on the Facebook Like Button

1 hour ago · 2 likes · 1 comment

The +1 Button and AdWords
The button won't only affect organic search results. It will appear in AdWords ads as well. "We expect that personalized annotations will help users know when your ads and organic search results are relevant to them, increasing the chances that they'll end up on your site," says Dan Friedman of Google's Inside AdWords Crew. "You don't have to make adjustments to your advertising strategy based on +1 buttons, and the way we calculate Quality Score isn't changing (though +1s will be one of many signals we use to calculate organic search ranking). Think of +1 buttons as an enhancement that can help already successful search campaigns perform even better."
It's worth noting that clicks on the +1 button don't count as a paid click, according to what Google told Danny Sullivan.
The button does not affect AdSense ad units on publishers' sites.
More for Businesses
Google also announced that it is bringing both the +1 button and the Google Profile to Google Apps. I'm guessing that this will roughly translate into Google's version of the Facebook Page.
"Your organization will need to be set up to use additional Google applications to get Google Profiles when it's available, so this is a great time for administrators to start the transition if they haven't already!" says Google Apps Product Manager Gaurav Jain. "Google Profiles is an important companion to +1''s, but your profile is also a place for you to manage your online identity."
"Once it's ready, Google Profiles can be turned on by your organization's administrator," adds Jain. "You might choose to use a Google Profile if you're a freelance writer, personal accountant or hairstylist, for instance, and you want to create your professional presence on the web to interact with potential clients and colleagues. Your profile will be public, so anyone on the web will be able to view it and your profile and +1's will show up in search results."
Google also says it will be providing admin options to keep profiles and +1's for Google Apps users private within an organization.
Google is "slowly" rolling out +1s, beginning with English on Google.com. More languages will be added in time. If you're dying to start using the buttons, however, they will soon let users opt-in via an experimental search site. If you want to know when buttons are available for your site, you can sign up to get notified here. You can sign up to get notified when Profiles are ready for Google Apps here.
Is the +1 a good idea? Tell us what you think.