Late yesterday evening, the Google Places blog announced an update to their location-based service that aims to give you "better access to your content."
The first tweak is the ability to get your Google Place reviews and ratings as an Atom feed. Just go to your Places profile (click on your pic at the top left) and on the left you will see the option to "get your reviews as a feed."
Not only does Google now want you to have access to your Google Places data as a feed, but it is also now allowing you to import your Foursquare check-in data into Google Places for rating and reviewing purposes. From the Places blog:
In addition to taking your Google Places ratings and reviews with you, we also thought it'd be useful if you could more easily rate and review on Google the places you've found elsewhere in your travels or on the web.
To do that, just find the URL of a public GeoRSS/Atom feed that contains place information you care about. This could be anything from a feed of your Foursquare check-ins to a My Map you may have created years ago. Paste the URL into the search box on Google Places. We'll show you place cards that line up, as best as we're able to determine, with the places in the public geo feed. Then, you can rate to your heart's content.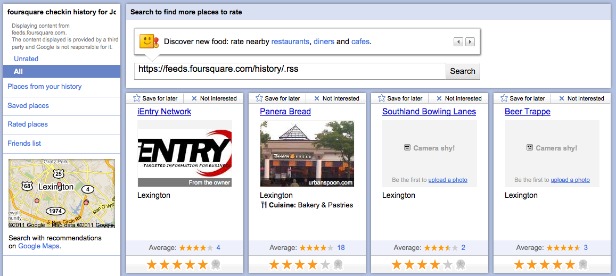 The only problem with this, obviously, is that I have to do all this just to import a few Foursquare places. Let me explain.
The process is easy enough. All you have to do is sign into the Foursquare website and then go to foursquare.com/feeds. Once there, copy the rss feed link. Then head on over to places.google.com/rate and paste the link into the search box in Google Places.
When I tried this, Google Places did indeed import my Foursquare data – but only 4 check-ins. I'm not the only one to get these results as MC Siegler over at Tech Crunch had the same issue:
Trying it out, the results seem to sync up well. But I can't get it to go beyond my ten most recent Foursquare check-ins. So much for my entire Foursquare history.
So the copy and pasting really isn't worth it just to load a few check-ins from your history. But the ability to import location data from other sources into Google Places is a good idea is theory – if it works out this obvious problem.