Even as word that Android devices have outsold the iPhone in the U.S. is still bouncing around the Web, Google gave college students, couriers, and exercise enthusiasts another reason to side with it this afternoon, adding biking directions (along with a couple other tweaks) to Google Maps 4.2 for Android.
The biking directions should prove to be a natural fit, given that people who are riding around on a bike all day may not have easy access to a PC. The interface is user-friendly, too, which is important since many folks will likely try to check their route while on the move.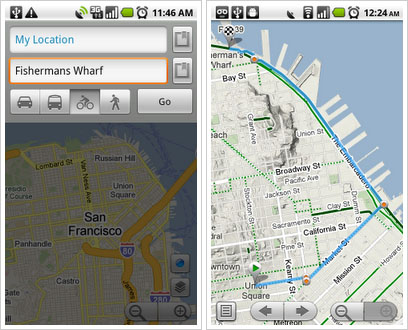 As for the second upgrade, it's a Google Navigation shortcut, and a post on the LatLong Blog explained, "[Y]ou can pick a destination and be on your way with as little as 2 taps of your finger. Select the 'Navigation' icon in your phone's app launcher to get the new destination selection view. Then, speak or type your destination, pick one from your contacts, choose a starred place, or select a recent destination. Navigation will begin and you're good to go."
Finally, a new "share this place" feature offers Android users the option of sending info related to a place to other people via text message, email, Facebook, Twitter, or Google Buzz.
All of this is free, of course. Android users just have to be careful that they're in possession of devices running Android 1.6 or higher.