This week Google released its new design for Image Search. The new design includes a tiled layout with instant scrolling between pages. This has already drawn some inevitable comparisons to Bing's image search, which is particularly interesting given Google's overall more Bing-like user interface launched earlier this year.
Do you think Google is improving with its Bing-like design changes? Tell us what you think.
In fact, Google has been drawing a great deal of criticism, and general observation this week regarding its increasing "Bingness". A very large percentage of the articles written this week about Google's new image search, not only make comparisons to Bing, but mention it in the title.
Some question why Google is trying to become more like Bing, while it already controls a much larger part of the search market. Others think the changes are for the better. After all, it's not like Google has changed its algorithm to match Bing's.
Still, "It seems that almost every time that Google makes an improvement in its aesthetic appeal, it looks more and more like Bing, notes Converseon's Mike Moran. "Remember the short-lived attempt to customize the Google home page recently which has since been removed?"
Let's Look at the actual new design…
You can get up to a thousand images in one scrolling page, and the pages will have page numbers so you can keep track of where you are. This has been a feature lacking from Bing's image search (though it does at least display a number for the range currently displayed…such as 377-416 of 6,400,000 results).
Google is also providing larger thumbnail previews on the results page, with a hover pane that appears when you mouse over a thumbnail. This includes more info and other features like "similar images."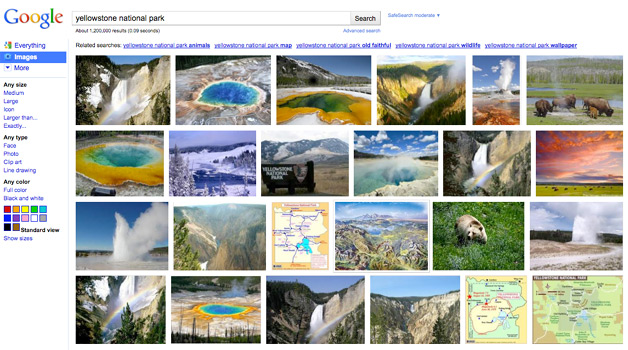 "Once you click on an image, you're taken to a new landing page that displays a large image in context, with the website it's hosted on visible right behind it," explains Google Images Product Manager Nate Smith. "Click anywhere outside the image, and you're right in the original page where you can learn more about the source and context."
Finally, you can use Page Up/ Page Down to scroll through pages quickly.
Some webmasters have taken issue with Google's new image search design, complaining that it puts their ads further away from being clicked. "The main issue from a webmaster perspective, as noted in WebmasterWorld, is that when you click on an image, it doesn't take you to the site," writes Barry Schwartz at Search Engine Roundtable. "Instead, it keeps you on Google, overlays the image in large format on top of your grayed out web site."
"So any ads on your site won't be clickable after the first click from Google. Users are instructed to either go back, click on the web site with the image or click on the actual image source file," he explains. "I should note that clicking anywhere on the background web site will take you to that web site."
Remember, the new design did come with a new ad format too. The format is called (appropriately) Image Search Ads.
"These ads appear only on Google Images, and they let you include a thumbnail image alongside your lines of text," explains Google Images Product Manager Nate Smith. "We hope they're a useful way to reach folks who are specifically looking for images."
Advertisers can review specific performance metrics for their ads on Google Images. They are priced the same as standard AdWords ads with cost-per-click pricing. More on these here.
As far as Google's recent design choices, it is pretty clear that Bing has had some kind of influence on them. The question is whether or not this is a good thing. So, I'll ask you…is it? Let us know what you think in the comments.
Note: This article has been updated to reflect commentary since the launch of the new image search.